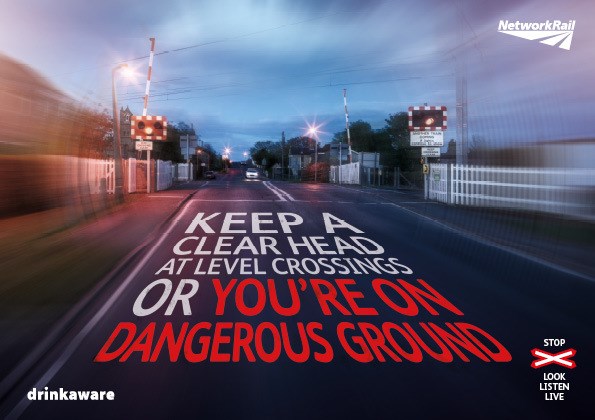 Wednesday 23 Nov 2016
New data reveals alcohol related railway incidents across Anglia spike over festive period
Route:
Christmas should be a time of year when everyone can enjoy themselves and have fun. But for some festive revellers it can spell danger, as new figures from Network Rail show that alcohol related incidents during the festive period across the Anglia rail network nearly doubled last year.
Figures reveal that between 24 November 2015 and 2 January 2016 there were 15 alcohol related incidents, compared to eight during the same period of the previous year. There have been 64 alcohol related incidents across the region during the festive period over the last seven years1.
As a result Network Rail, British Transport Police and RSSB are joining forces to urge party goers to take extra care when travelling on or around the railway. In particular, the rail industry is issuing a warning to those who live near or may be out near level crossings. Many people may be out visiting family and friends in areas they are unfamiliar with and with many crossings located within a mile of pubs and clubs it's important that people take extra care. Passengers should also be careful when around the platform edge after having a drink and should plan their journey home ahead of going out, so that they know when the last train will be.
To help promote this message, level crossing managers are delivering free urinal liners, that carry the message 'keep a clear head' which is revealed when used. Drinks coasters and mirror stickers carrying the same message will also be sent out to pubs close to level crossings in the region.
Kat O'Malley, Network Rail's community safety manager for Anglia, said: "We want everyone to have fun over the festive season and trains are the safest way to get around. But passengers and people living near the railway must remember that it can be a dangerous place. After a few drinks people can take more risks and have slower reactions.
"Taking a short cut across the tracks, chancing it at level crossings or tripping as you get onto trains can kill you or change your life forever. Our advice is that you plan your journey in advance, find out when the last train is before you go out to avoid having to rush through the station and don't let the drink take bad decisions for you – keep a clear head."
Network Rail is also reporting a 25 per cent increase in alcohol related incidents across the rail network in December, compared to the beginning of the year2. Data collected nationally over the last 10 years also shows that on average there are more incidents reported involving intoxication in December than any other month.
According to British Transport Police, there is also a rise in violence at many of the busiest stations over the festive season, much of which is fuelled by excess alcohol. Between 24 November 2015 and 2 January 2016, the number of violent offences reported at railway stations across England, Scotland and Wales increased by 8% compared with the same period in 2014/15. At least one in 10 of those offences involved alcohol3.
Nationally:
Over 4,000 alcohol related incidents reported over the past five years
Almost half (44%) of all incidents reported last winter involved alcohol4
Nearly 250 incidents recorded at level crossings last December
Passengers boarding and alighting were trains involved in 395 alcohol related accidents in the last five years
Officers from British Transport Police are stepping up patrols at stations across the country.
Detective Chief Superintendent Jason Bunyard, from British Transport Police, said: "Unfortunately, during the festive season, we see a rise in public order offences and antisocial behaviour. We put much of this down to the people involved drinking more than they normally would and behaving in a way they wouldn't dream of if they were sober.
"Our priority is to make sure everyone gets to their destination safely. You can expect to see our officers out on the network helping people to enjoy the festivities safely and encouraging them to think about how alcohol can affect the way they behave and the effect this has on other passengers.
"We are asking you to keep a clear head. Think about what you would do and how you would behave if you were sober. There is no excuse for spoiling other people's journeys or behaving any differently because you've drunk alcohol. We want you to have fun but it's more important to get where you're going safely."
The campaign is also supported by Drinkaware who will be helping to deliver the message.
Ben Butler, Director of Marketing and Communications at Drinkaware said: "Drinking alcohol can make us more vulnerable or prone to accidents as it slows down the brain which can affect the body's responses. The more you drink, the more likely you are to take a risk. Alcohol affects our judgement and reasoning, slows down reactions, upsets our balance and coordination and can even impair vision and hearing. The best way to keep the risks from alcohol to a low level is to plan your night out in advance; make sure you know how you will be getting home and that you have people you trust with you. Whilst out you should limit the total amount of alcohol you consume, drink more slowly, with food, and alternate with water."
Notes to editors
Network Rail data on alcohol related incidents 2009-16
RSSB data on alcohol related incidents 2006/15
BTP data on alcohol related violence 2016
BTP National Disruption Fusion Unit data 2016
Alcohol related incident explanation: An incident is said to involve drugs or alcohol when either has been reported as being a factor in an incident.
About BTP
British Transport Police (BTP) is the national specialist police force for the railway in England, Scotland and Wales. Our job is to keep the travelling public and people who work on the railway safe from harm. On over 10,000 miles of track, we keep more than 6 million people and 400,000 tonnes of freight safe and secure every day. Our police officers and staff are experts in their field. Our specialism makes us unique and a vital player in the growing rail industry, keeping us at the cutting edge of modern policing.
btp.police.uk
About RSSB
Through research, analysis, and insight RSSB supports our members and stakeholders to deliver a safer, more efficient and sustainable rail system. Our vision is to be a centre of excellence, valued by its members and stakeholders as an essential contributor to their success. Our independent evidence based approach is built on strong technical capability, and the enabling of collaborative industry engagement for the benefit of the whole rail system.
Website: www.rssb.co.uk
Twitter: @RSSB_rail
Contact information
Passengers / community members
Network Rail national helpline
03457 11 41 41
Latest travel advice
Please visit National Rail Enquiries
Journalists
Network Rail press office - Katie Mack
Media relations manager (Anglia route)
020 3356 2515
Katie.Mack@networkrail.co.uk
About Network Rail
We own, operate and develop Britain's railway infrastructure; that's 20,000 miles of track, 30,000 bridges, tunnels and viaducts and the thousands of signals, level crossings and stations. We run 20 of the UK's largest stations while all the others, over 2,500, are run by the country's train operating companies.
Every day, there are more than 4.7 million journeys made in the UK and over 600 freight trains run on the network. People depend on Britain's railway for their daily commute, to visit friends and loved ones and to get them home safe every day. Our role is to deliver a safe and reliable railway, so we carefully manage and deliver thousands of projects every year that form part of the multi-billion pound Railway Upgrade Plan, to grow and expand the nation's railway network to respond to the tremendous growth and demand the railway has experienced - a doubling of passenger journeys over the past 20 years.
We are building a better railway for a better Britain.
Follow us on Twitter: @networkrail
Visit our online newsroom: www.networkrailmediacentre.co.uk