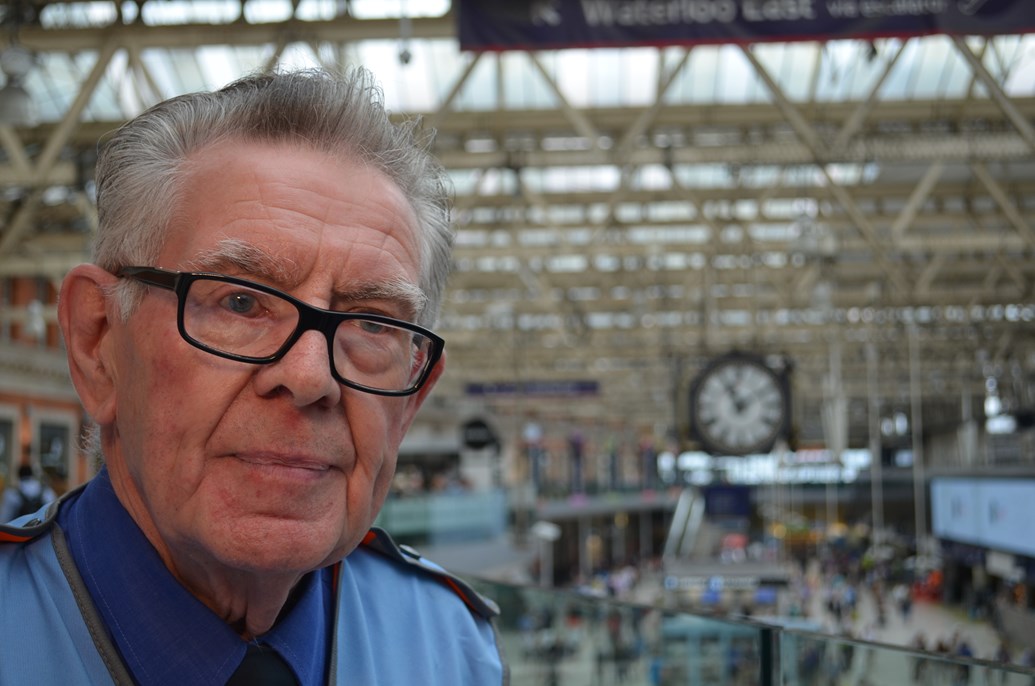 Wednesday 11 Jul 2018
Waterloo's 170 years old and lays claim to Britain's longest serving railway worker
Route:
Matt Damon, Sir Alfred Hitchcock, Sir Roger Moore and Don Buckley - a station worker veteran with 65-years' service - make up just a small part of Waterloo's rich 170-year-old history
To mark Waterloo station's 170th birthday, Network Rail and South Western Railway reveal the man believed to be Britain's longest-serving member of railway staff.
Don Buckley, 79, joined Waterloo's station team in 1953, aged just 14.
He was supposed to go to Euston station to start a job there as a messenger, but arrived at Waterloo after jumping into a taxi and asking to be taken to the big station in London.
He remains working there today, 65 years later.
His incredible years of service means Don is one of the few people still working in the industry with formal training to decouple a steam train.
Don, who moved to London from County Kerry in 1952 after being sent to England to make a living, said:
"I was very young and frightened when I came here all those years ago. I couldn't get my own place to live. Everywhere was 'room to let, but no Irish'.
"I was getting £7 a week and had to send a lot of that money home to my mother. It was hard back then but I loved working here.
"All the gentlemen wore bowler hats in those days, and everyone had an umbrella. I remember we used to have a cinema by platform one and I'd sneak-up and watch the kids' shows on the Saturday."
Don now works for South Western Railway helping visually impaired and disabled people make their way around the station, as well as providing his unmatched knowledge of the station to passengers needing directions or assistance. Don said:
"We're here to help people wherever we can, I've made some great relationships with people I always see at the station - they always stop to say hello.
"Some of the people I've met here over the years are unbelievable. I once took Sir Stanley Matthews' suitcase - he gave me 4 shillings. I helped carry lots of people's luggage over the years. Roger Moore tipped me £10, and I took Alfred Hitchcock's as well. I wasn't too fond of him though because he had a very heavy suitcase full of books. When they were making that Bourne film here they told me I couldn't go up a flight of stairs, well, I did and that young man Matt Damon opened the gate for me.
"The station has changed a lot while I've been here. There's no more steam trains or anything like that, but it's still the station I love and I think it'll be fantastic when the former International Terminal re-opens."
An £800 million upgrade, to create 30 per cent more room at the station at peak times, is due to be completed at the end of this year, at Britain's busiest station which includes the reopening of the former Waterloo International Terminal.
Despite spending all his working life at the station, Don says he still misses it when he's away:
"When I'm on holidays or when I'm off, I miss Waterloo. It's like losing a finger; like I'm missing a part of me. My daughters and sons say to me 'dad, you're getting old' but I don't listen. My wife says to me every day: 'all you ever talk about is Waterloo, Waterloo, Waterloo', but I can't help it; Waterloo's a part of my life and I'm happy."
Becky Lumlock, route managing director at Network Rail, said:
"As we celebrate this amazing birthday for Waterloo station I'm very proud to have Don on the station team – he must surely be the longest serving person on Britain's railway.
"Waterloo has an amazing history, from the first people to ever catch a train to the Derby in 1848, to the first baby born at the station just last year. And it's got an exciting future ahead of it. Our £800 million investment will bring the former Waterloo International Terminal back into use, providing more space for the 100 million passenger journeys made through this station every year."
As part of the 170 birthday celebrations, the BFI have also released archive footage of the station, showing its transformation through the ages. Taken from the BFI's hugely successful Britain on Film project funded by the National Lottery, made available online via BFI Player, these films will be screened on the Waterloo Station concourse to travellers and commuters.
THE WORLD'S GREATEST STATION (1922) shows news footage of Queen Mary officially opening the rebuilt station, TERMINUS (1961), Oscar-winning director John Schlesinger's (Midnight Cowboy) innovative, early documentary, captures the daily rhythms and human dramas of station life whilst RUSH HOUR (1970), Nick Nicholls's timelapse short, distils the frenetic speed of rush hour into just 3 minutes.
170 years of Waterloo:
Waterloo was the last London terminus to provide steam powered services. The last steam train went to Bournemouth in 1967.
When Waterloo opened in 1848 there were just 14 trains a day to and from the station.
The main entrance, known as Victory Arch, is a Grade II listed building.
There are 28 escalators at Waterloo, more than any other station.
You can go by train from Waterloo station to Waterloo in Belgium in approximately 3 hours, changing at Oxford Circus, Kings Cross and Brussels.
Waterloo once had its own cinema near platform 1. It was operational from 1934-1970.
As part of the Railway Upgrade Plan we're investing £800 million to provide space at Waterloo station for 45,000 more passengers at peak times from the end of this year.
The original station was added to in stages to accommodate increasing passenger numbers until it was eventually rebuilt between 1903 and 1922 – most of the "original" building seen today dates from that period.
Great train robber Buster Edwards set up flower stall outside the station after his release from jail in 1975.
The station's arches were used as air raid shelters during WWII.
Scenes from Bond film Skyfall and the Bourne Ultimatum were filmed at Waterloo.
Waterloo is now Britain's busiest train station with 99.4 million journeys a year.
Follow @LondonWaterloo and @NetworkRail to keep up to date with Waterloo's birthday celebrations.
ENDS
Contact information
Passengers / community members
Network Rail national helpline
03457 11 41 41
Latest travel advice
Please visit National Rail Enquiries
Journalists
Network Rail press office - Wessex route
Media Relations Manager- Wessex
Network Rail
07730 353042
James.Crook@networkrail.co.uk
About Network Rail
We own, operate and develop Britain's railway infrastructure; that's 20,000 miles of track, 30,000 bridges, tunnels and viaducts and the thousands of signals, level crossings and stations. We run 20 of the UK's largest stations while all the others, over 2,500, are run by the country's train operating companies.
Every day, there are more than 4.7 million journeys made in the UK and over 600 freight trains run on the network. People depend on Britain's railway for their daily commute, to visit friends and loved ones and to get them home safe every day. Our role is to deliver a safe and reliable railway, so we carefully manage and deliver thousands of projects every year that form part of the multi-billion pound Railway Upgrade Plan, to grow and expand the nation's railway network to respond to the tremendous growth and demand the railway has experienced - a doubling of passenger journeys over the past 20 years.
We are building a better railway for a better Britain.
Follow us on Twitter: @networkrail
Visit our online newsroom: www.networkrailmediacentre.co.uk