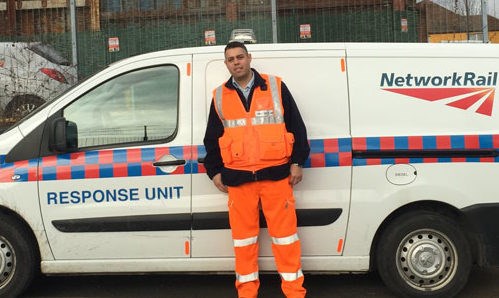 Friday 30 Jun 2017
Railway suicide prevention training saving lives in the Thames Valley
Route:
As Network Rail, the British Transport Police (BTP) and Samaritans today revealed a 40% increase in suicide preventions on the UK rail network, Bradley Coomber recalls the day he helped a young man in need- just one week after completing his suicide prevention course.
Bradley was working as a Mobile Operations Manager for Network Rail in Slough when his new training- devised as part of the ongoing suicide prevention partnership between Network Rail, BTP and Samaritans- proved to be invaluable as he intervened upon seeing a man in distress on the railway.
"I was in my office when a colleague told me there was someone who needed help near us," said Bradley.
"I immediately went out and saw a young man standing still with his hands by his sides and his head bowed. From his position and body language, I knew straight away that he was suicidal.
"I approached the man, asked if he was all right, and said he could come with me to my office. During the walk he was silent. It wasn't until we got to my office that he started a conversation with me."
"I could clearly see how distressed he was. We spoke until the emergency services arrived; and in that time he went from "wanting to die" to wondering why he "could do such a thing". He was relieved that he did not carry out his initial intentions to take his own life, and was happy that I was there for him. He went with the paramedics willingly.
"Before he left with the paramedics, he shook my hand and gave me a hug. I may not have solved all his problems, but for one moment he had someone looking out for him which, I guess, was what he needed."
Network Rail, Samaritans and the British Transport Police today revealed that there has been a 40% increase in suicide interventions on the UK rail network this year.
Nationally, 1,593* potentially life-saving interventions have been carried out across Britain's rail network by rail staff, British Transport Police, local police and members of the public since April last year, – an increase of 40 percent on the previous year.
At the same time, suicides and suspected suicides on the rail network have dropped from 253 to 237** since 1st April 2016, showing a steady decline in rail suicides for the second year in a row. This means that rail suicides have fallen by 18 percent in two years and 2016/17, representing the lowest yearly figure since 2010.
Rail companies, BTP and Samaritans are continuing to work in partnership to encourage more people to open up and talk about mental health issues and suicidal feelings, whilst over 15,000 railway staff have now received training in suicide prevention.
Samaritans deliver two training courses as part of the partnership – a course for railway staff and BTP officers teaching them how to identify and approach potentially suicidal people, and trauma support training aimed at those who may be affected by suicide on the railway.
"In the past I would have been more aggressive in these types of situations as I would have regarded him as just another trespasser, but the Samaritans training has taught me to be more empathetic, to look for signs of distress and how to deal with that person," said Bradley.
"The training also helped me understand who Samaritans are and how they can help. It meant that I was confident enough to give the young man a Samaritans contact card, so in the future he would know where to seek help before he reached another low point."
Ian Stevens, who manages the suicide prevention programme on behalf of the rail industry, said:
"It's encouraging to see the number of suicides on the railway fall for the second year in a row, and hopefully this trend continues in line with our ongoing suicide prevention work. It's great to be able to say that around one in six rail staff are now trained in suicide prevention, and that their commitment to preventing suicides on the railway is translating into actual lives saved on the ground. Put simply, we are now more likely to intervene and prevent people being injured or killed through suicide attempts on the railway.
"As the operators of the rail network in Britain, we have a responsibility to keep passengers, staff and members of the public safe. Alongside physical measures such as new barriers, fencing and lighting at stations, we will continue our work with Samaritans to prevent suicides and break down the stigma associated with mental health issues."
Samaritans CEO Ruth Sutherland said:
"The reduction in suicides on the railway shows that the partnership between Samaritans, Network Rail, BTP and the wider rail industry is making a real difference. But suicide is everybody's business and we want to see the same dramatic reduction in suicide figures in general. We look forward to taking this learning to a wider audience and having an even greater impact on suicide numbers in the coming years."
ENDS
About Network Rail
Network Rail owns, manages and develops Britain's railway - the 20,000 miles of track, 40,000 bridges and viaducts and the thousands of signals, level crossings and stations (the largest of which we also run). In partnership with train operators we help people take more than 1.65bn journeys by rail every year and move hundreds of millions of tonnes of freight, saving almost 8m lorry journeys. We employ 36,000 people across Britain and work round-the-clock, each and every day, to provide a safe, reliable railway.
About the Railway Upgrade Plan
The Railway Upgrade Plan is Network Rail's investment plan for Britain's railways. It makes up two-thirds of Network Rail's £40bn spending priorities for the five years to 2019 and represents the biggest sustained programme of rail modernisation since the Victoria era. It is designed to provide more capacity, relieve crowding and respond to the tremendous growth Britain's railways continue to experience; passenger numbers have doubled in the past 20 years and are set to double again over the next 25 years - so we need to continue to invest in building a bigger, better railway. For passengers, that means:
longer, faster more frequent trains;
better, more reliable infrastructure; and
better facilities for passengers, especially at stations.
Follow us on Twitter: @networkrailPR
Visit our online newsroom: www.networkrailmediacentre.co.uk