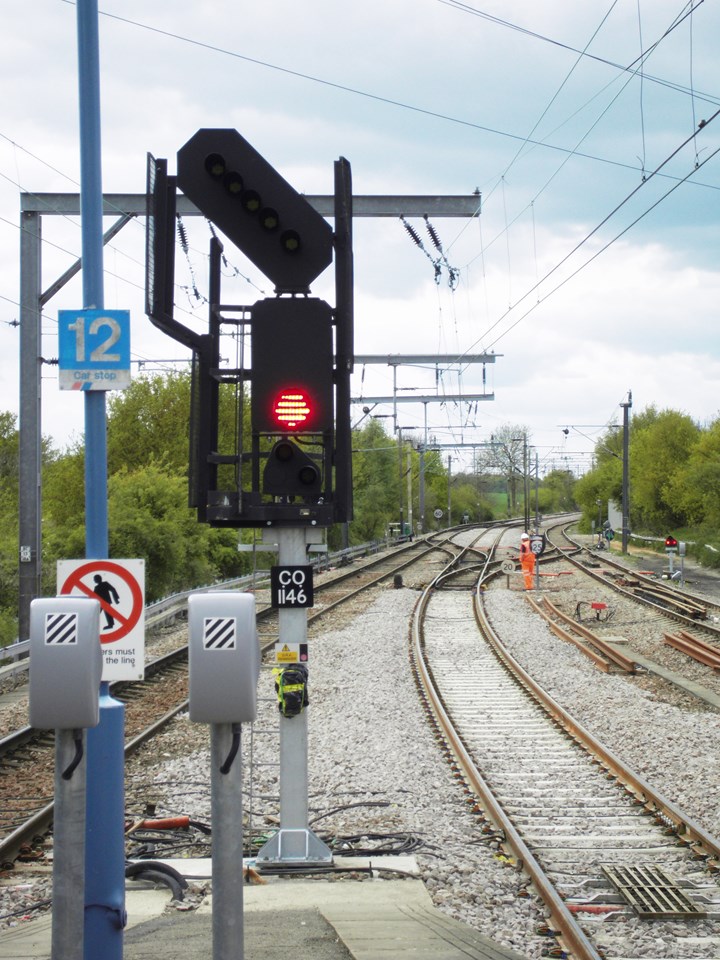 Monday 31 Mar 2014
Fewer delays and more reliable services for Anglia passengers as Network Rail kicks off £2.2bn five-year programme
Route:
Tomorrow marks the beginning of a new era for rail passengers in East Anglia as Network Rail embarks on an ambitious £2.2bn five-year spending programme in the region.
This programme is part of Network Rail's overall £38bn investment in Britain's rail network, making a very real difference to millions of people's lives and providing a significant boost to the economy.
Over the next five years, Network Rail's Anglia route team will tackle bottlenecks, rebuild junctions, upgrade signals and renew ageing infrastructure, delivering more reliable services for passengers and freight.
Today, more than 1.5bn passenger journeys are made by rail each year. The continued growth in the popularity of rail travel means that by the end of the decade the industry will need to cater for an additional 225m journeys and a 30% increase in freight.
Passenger numbers have increased and will continue for London Overground, Abellio Greater Anglia has seen overall passenger growth on its network from 105.8m journeys in 2010 to 124.4m journeys in 2013, whilst this year 37.829m passengers used c2c services compared to 35.027m back in 2010.

Key projects over the next five years include:-
Completion of Crossrail will transform commuter services between Shenfield and London Liverpool Street, and a new Crossrail station at London Liverpool Street
Rebuild Bow Junction creating more space for trains to arrive and leave from London Liverpool Street
Complete upgrading overhead power lines on the Great Eastern Main Line between Liverpool Street and Chelmsford and Southend
Replace ageing tracks around Colchester and extend platform 6 to improve day to day services. Phase two of track and points renewal starts in 2015
Continue improving safety at level crossings, close level crossings where possible as well as investing in new technology
Rebuild Ely Junction North relieving congestion between Norwich and Cambridge on the West Anglia line
Replace a vital rail junction at Pitsea reducing the number of days the section of track needs closing for route improvement work every year
A new rail operating centre (ROC) will open in Romford, controlling the entire railway in the Anglia region covering parts of London, Essex, Suffolk, Norfolk, Cambridgeshire and Hertfordshire
The Thameslink programme will provide more passengers from Cambridge with new trains and access to more direct services to the south coast
Working with Transport for London to bring longer trains to the Overground and electrifying the Gospel Oak to Barking line creating more space for passenger and freight services
Continue to upgrade the cross-country route from Felixstowe to the West Midlands providing more space for freight, relieving the congested the Great Eastern main line and taking freight off the roads
Richard Schofield, route managing director said:" The railway in East Anglia is getting busier and passenger numbers are growing year on year. Our response now is to meet the demands placed by the travelling public to deliver more reliable journeys and a safer railway for everyone.
By 2019, we will have a new station for Crossrail at Liverpool Street, rebuilt key junctions, renewed overhead power lines and upgraded signalling. Over the next five years, we will work tirelessly to deliver real improvements and bring ageing parts of the network into the 21st century. Finally, this vital investment will support and encourage economic growth across the East of England."
Adam Golton, Interim Managing Director, Abellio Greater Anglia said: "Our positive alliance with Network Rail has delivered improved train service performance since the existing Greater Anglia franchise began in February 2012. We are also continuing to work closely with our key stakeholder partners and Network Rail in making the case for further infrastructure investment as part of this five-year programme and beyond, in helping to shape the improvements that will provide better reliability, improved journey times and more capacity for the region's rail passengers."


c2c Managing Director Julian Drury said: "With demand growing, we welcome this increased investment into the c2c route, which provides a vital link between South Essex and the capital. Infrastructure improvements including the current project at Pitsea will help provide a better train service for c2c passengers. We are working closely with Network Rail to ensure projects like this maintain and build on c2c's current status as the UK's most punctual train operator."
Notes to editors
Interviews
Richard Schofield, route managing director Anglia, will be available for broadcast interviews on Monday, March 31.
Network Rail and its industry partners will deliver a programme of investment to tackle the severe problem of congestion on the busiest parts of the network, providing capacity for 170,000 extra commuter seats at peak times including capability to run hundreds more trains a day between the key cities of the north of England and a 20% increase in central London's commuter rail capacity through completion of the Crossrail and Thameslink projects
Of the £38bn to be spent on Britain's railways over the next five years, £12bn will be invested in capital expenditure projects to relieve overcrowding by building new tracks, uncorking bottlenecks, increasing capacity and upgrading outdated stations:
The Northern Hub programme will deliver a step-change in connectivity across the north of England, providing faster journeys and the capacity to run hundreds more trains a day between key northern cities
The Thameslink programme will be completed, with 24 trains per hour each way through the centre of London, taking much needed pressure off the Tube network and relieving commuters of the aggravation of changing trains during the busiest part of the day. Crossrail trains will also be running, increasing capacity for travel through the capital by a further 10%
More than 850 miles of railway will be electrified, including the Great Western Main Line from Maidenhead to Swansea, the Midland Main Line from Sheffield to Bedford and across the north and north west of England, bringing greener, more frequent and more reliable journeys for millions of people
A new, electrified railway linking the Great Western, West Coast and Midland main lines will connect Oxford with Bedford and Milton Keynes as part of the East West Rail project
More than 30 miles of new railway and seven new stations will reconnect the border towns of Scotland with Edinburgh for the first time in 50 years, reversing a Beeching closure of the 1960s and providing a faster, greener alternative to travelling by road
Stations including Birmingham New Street, Manchester Victoria, Glasgow Queen Street and London Bridge will be transformed, as King's Cross has been, restoring former Victorian glory alongside modern facilities and retail opportunities, bringing investment and jobs into our cities and further income for the railway to invest
In addition to this capital expenditure, £13bn will be invested in replacing and renewing older parts of the network. More than 7,000km of track and nearly 6,000 sets of points will be renewed or refurbished and 5,000km of fencing and almost 300,000m2 of platforms at stations will be replaced or renewed. A further £13bn will be spent on day-to-day maintenance and the costs of operating and running one of the busiest, most intensely used networks in Europe
Safety improvements at level crossings will continue, with the company pledging to close a further 500 crossings by 2019, investing more than £100m as part of its ongoing programme of work to improve safety and reduce risk to passengers and the wider public
The next five years will also see Network Rail committing itself to furthering its environmental sustainability and resilience in the face of extreme weather and changing climate. By September, a series of ten route-based climate change strategies will be published, setting out specific measures to be taken to mitigate the effects of severe weather and improve the railway's long-term sustainability
Network Rail is committed to making even more trains run on time. By 2019 it has agreed to deliver punctuality levels of 92.5% across England, Wales and Scotland while running more trains and carrying more people than ever before. The company will also provide even better value for money for the British people, delivering a 30% reduction in the day-to-day cost of the railway per passenger kilometre
Anglia route
The route covers two direct commuting routes into the City of London, the densely populated areas to the north, east and west of London, the largest container port in the country at Felixstowe, the major cities of Cambridge and Norwich, but also the rural countryside and market towns of Cambridgeshire, Norfolk and Suffolk.
The Great Eastern route, West Anglia, North London Line and Thameside routes from Shoeburyness to London are intense commuter routes into and around London but also support a significant leisure market outside the peak and at weekends. The cross country between Ipswich, Norwich and Peterborough provide key links to the North and Midlands. The rural routes in Norfolk and Suffolk provide key links between the major towns and cities and the coast at Felixstowe, Lowestoft, Great Yarmouth and Cromer.
The Great Eastern main line runs from Liverpool Street to Norwich via Chelmsford and Ipswich. The West Anglia line runs from Liverpool Street, through the towns of Cheshunt, Broxbourne, Harlow, Bishop's Stopford and Audley End before reaching Cambridge, with two branches serving Hertford and Stansted Airport.
About Network Rail
Network Rail owns, manages and develops Britain's railway - the 20,000 miles of track, 40,000 bridges and viaducts and the thousands of signals, level crossings and stations (the largest of which we also run). In partnership with train operators we help people take more than 1.65bn journeys by rail every year and move hundreds of millions of tonnes of freight, saving almost 8m lorry journeys. We employ 36,000 people across Britain and work round-the-clock, each and every day, to provide a safe, reliable railway.
About the Railway Upgrade Plan
The Railway Upgrade Plan is Network Rail's investment plan for Britain's railways. It makes up two-thirds of Network Rail's £40bn spending priorities for the five years to 2019 and represents the biggest sustained programme of rail modernisation since the Victoria era. It is designed to provide more capacity, relieve crowding and respond to the tremendous growth Britain's railways continue to experience; passenger numbers have doubled in the past 20 years and are set to double again over the next 25 years - so we need to continue to invest in building a bigger, better railway. For passengers, that means:
longer, faster more frequent trains;
better, more reliable infrastructure; and
better facilities for passengers, especially at stations.
Follow us on Twitter: @networkrailPR
Visit our online newsroom: www.networkrailmediacentre.co.uk