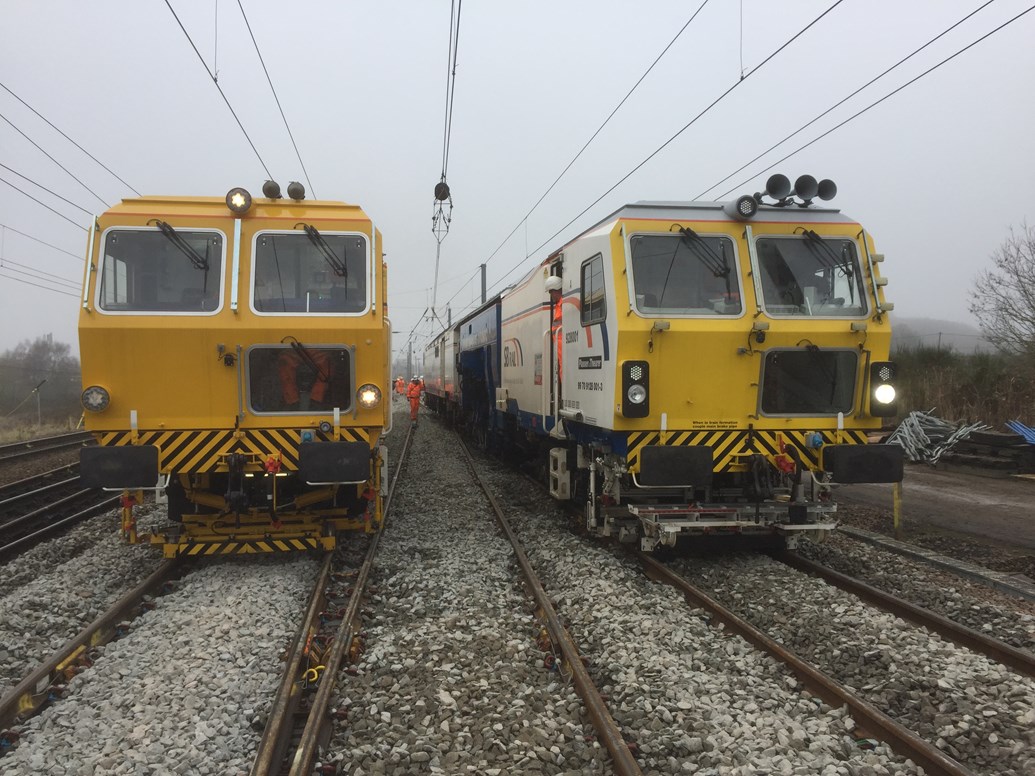 Wednesday 15 Feb 2017
World's first "formation flying" engineering trains will upgrade the railway faster and cheaper
Route:
Pioneering approach to railway engineering could save £250,000 per week
Passengers benefit from faster trains and less disruption as the requirement for cautionary speed restrictions after engineering is eliminated
"Formation flying" engineering trains are a world first and the latest in a series of new techniques that have so far saved over £5m
In a bid to increase efficiencies and reduce delays for passengers, Network Rail is trialling "formation flying" engineering trains to repair and renew the 20,000 miles of railway track it's responsible for maintaining. The new approach to engineering could potentially save taxpayer-funded Network Rail £250,000 per week in costs by allowing trains to run at higher speeds once engineering is complete.
The pioneering technique was successfully used at Sandy, Bedfordshire, on a set of railway switches and crossings in February (5/2), which were being replaced as part of the Railway Upgrade Plan.
Passenger journeys can often be disrupted after major track upgrades as the first week of trains to travel over freshly laid track are forced to do so at restricted speed until the ballast – the stones beneath the track that give support – has settled and formed a solid foundation. Network Rail then has to pay compensation to the train operators for the financial impact of this disruption.
But at Sandy, for the first time in history, a pair of engineering trains were joined together connected by an umbilical and ran in parallel to simultaneously deliver tamping and dynamic track stabilisation (DTS) which simulated the equivalent of 200 trains passing over the tracks consecutively. Passenger trains were then able to start using the railway at speeds as high as 125mph as soon as the engineering team had finished because the track and ballast were firmly 'bedded in' – which meant Network Rail avoided thousands of pounds in compensation payments.
The news comes almost one year after Network Rail's first successes with 125mph 'high speed handbacks' in January 2016 on 'regular' plain line track.
It's estimated that over £5m has already been saved by avoiding compensation payments since the start of the 'high speed handback' programme.
Expanding on those techniques, the work at Sandy was also Network Rail's first time delivering a high speed handback on a crossing – the most complex part of a switches and crossing layout. The crossing creates a gap in the rail for the train wheel to pass through once the switch – the moving blades that allow the train to switch tracks – have been set.
Track monitoring and installation practices have improved significantly in the last few years. The key to achieving a high speed handback is 'progressive assurance' to ensure track is installed at each stage to its specific design tolerances, that care is taken while tamping to get the track to its final exact co-ordinates and that welding is completed as part of the core work rather than scheduled for a later date.
Network Rail's programme director for track, Steve Featherstone said: "We monitored the work at Sandy during the weekend and had progressive assurance throughout to make sure we built everything to the highest possible quality levels. This allowed trains to run at 125mph right away – the first time we've achieved this on a crossing.
"Our high speed handback journey started three years ago. We have been continually improving, systematically getting better at every aspect of what we do. We have progressively built the knowledge and competence to handback plain line, high output and switches and crossing renewals at 125mph, which will save Network Rail hundreds of thousands of pounds in reduced fees to train operators for disruption caused.
"Ultimately this is about passengers. Our new techniques mean we can handback the railway safely, on time and with no speed restrictions meaning passengers get to their destination on time and as planned."
This improved approach delivers significant benefits for passengers, the workforce, Network Rail, train operators and the millions of taxpayers who help fund the railway:
Faster trains means reduced delays and journey times for passengers
Staff spend less time trackside as they don't need to set up and remove speed boards for train drivers
Reduced need for compensation to train operators as disruption is reduced
Notes:
In January 2016, Network Rail achieved its first high speed handback. This was on a section of 'plain line'. Network Rail issued a press release
In September 2016, the team continued its successes and achieved their first high speed handback, this time on a 'switch' (part of a switches and crossings layout). Amey issued a press release
Today's announcement marks the first time the team achieved a high speed handback on the 'crossing' part of a switches and crossings layout
Interview opportunity:
Network Rail's programme director for track, Steve Featherstone is available for interview about the new techniques and high speed handbacks. Please contact Dan Donovan in the press office to arrange.
Pictures:
A selection of pictures of the projects involved in high speed handbacks are available in the Network Rail media centre
Expert press briefing:
A media briefing issued in January 2016 is available for download. It details the techniques used to achieve a high speed handback, some example projects the methodology has been used on, and their associated cost savings
About Network Rail
Network Rail owns, manages and develops Britain's railway - the 20,000 miles of track, 40,000 bridges and viaducts and the thousands of signals, level crossings and stations (the largest of which we also run). In partnership with train operators we help people take more than 1.65bn journeys by rail every year and move hundreds of millions of tonnes of freight, saving almost 8m lorry journeys. We employ 38,000 people across Britain and work round-the-clock, each and every day, to provide a safe, reliable railway.
About the Railway Upgrade Plan
The Railway Upgrade Plan is Network Rail's investment plan for Britain's railways. It makes up two-thirds of Network Rail's £40bn spending priorities for the five years to 2019 and represents the biggest sustained programme of rail modernisation since the Victoria era. It is designed to provide more capacity, relieve crowding and respond to the tremendous growth Britain's railways continue to experience; passenger numbers have doubled in the past 20 years and are set to double again over the next 25 years - so we need to continue to invest in building a bigger, better railway. For passengers, that means:
longer, faster more frequent trains;
better, more reliable infrastructure; and
better facilities for passengers, especially at stations.
Follow us on Twitter: @networkrail
Visit our online newsroom: www.networkrailmediacentre.co.uk