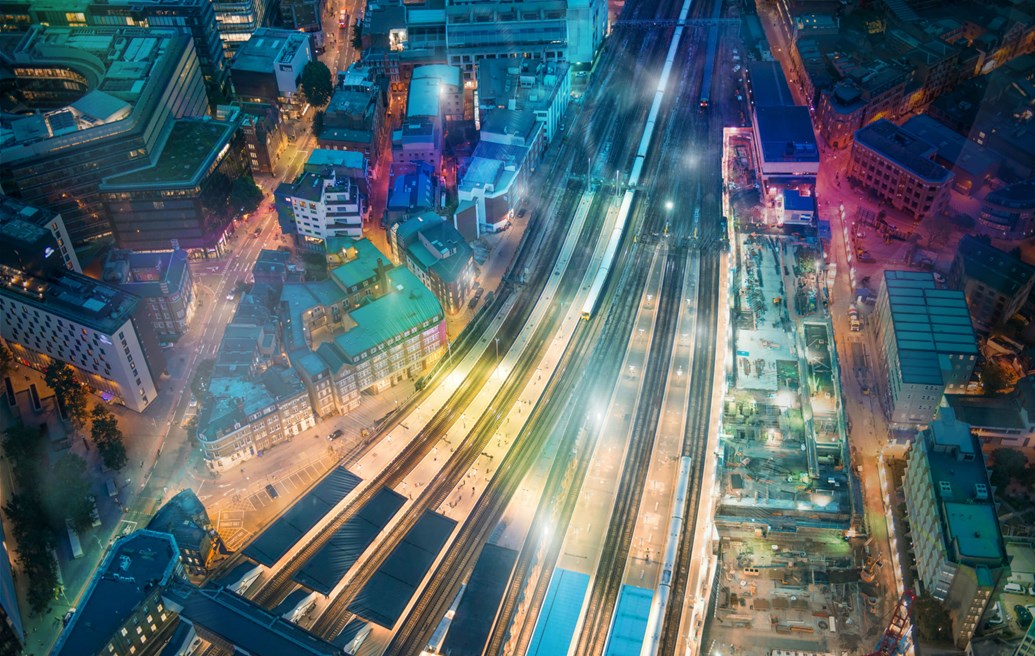 Thursday 23 Feb 2017
Track, train and passenger join together for the first time as Network Rail transformation continues apace
Route:
Network Rail's mission to work ever closer with train and freight operators is becoming a reality, with closer than ever ties between the track operator and the companies running services to improve customers' experiences.
In the first report on progress since the publication of its Transformation Plan – "Delivering for Our Customers", Network Rail confirmed today that significant power and decision making has already been devolved from the centre to its routes, with 99% of work in Network Rail now approved at local level – speeding up decision making and delivery.
Additionally, each route has worked with its train and freight operating companies to produce aligned incentives through new route scorecards. These will be a public measure of how the railway is performing for the benefit of passengers. These are all part of the ongoing devolution process in Network Rail which is seeing it change from a centralised organisation to one which is predominantly run by local teams for local customers.
This is supported by the Secretary of State for Transport who wants to see the train companies and Network Rail working seamlessly for the passenger. Commenting on the news that a new supervisory board, including passenger representatives, will oversee all elements of the railway on the Great Western railway, Chris Grayling said:
"This is excellent news. Delivering major improvements on our busy network is a tough task. Whether it's planning essential repairs, improving services, or dealing quickly with problems, it's much better when it's done by one joined up team of people. Our railways are crucial to our economic future. While the solutions may differ in their models for each area, the outcome will be the same – a railway that is predominantly run by an integrated local team of people with a commitment to the smooth operation of their routes."
Anthony Smith, chief executive of Transport Focus, said:
"I am delighted that Transport Focus is providing the voice of the passenger on the new Western supervisory board. We have a wealth of experience to bring to help Network Rail focus on delivering what rail passengers want."
Commenting on the publication of the Transformation Update, Mark Carne, Network Rail's chief executive, said:
"Network Rail is changing and devolution is now a reality for everyone in Network Rail. We have created smaller regional businesses and empowered them to run their railway in a way that best meets the needs of their train operating customers, bringing track and train together to deliver for passengers and business."
"Devolution is a fundamental building block of our company transformation plan. My vision is for Network Rail to behave like a private sector company putting customers at the heart of our business. This transformation, and ever closer working with freight and train operators, is essential if the railway is to properly meet the challenge of unprecedented customer growth and congestion."
A number of train operators today welcomed the update.
Christian Roth, Managing Director for South West Trains said: "We are working together with Network Rail to deliver the biggest capacity improvements on this railway for decades. This includes the Waterloo & South West Upgrade, which is delivering a bigger and better London Waterloo and a 30% increase in capacity during the busiest times of the day."
Ian Bullock, Managing Director Arriva Trains Wales said:
"We are working more closely with Network Rail than ever before and are building strong alliances. This is good news for us and good news for our passengers.
"We've recently launched a joint operations Board which also incorporates the Welsh Government. A priority for this new Board is to enhance collaborative working even further and ensure that we explore every possible opportunity to continue to better meet the needs of our passengers."
Western supervisory board
This board is the first in the country and will set the standard for local cooperation. In the coming months each of Network Rail's other geographical routes, and the national freight route, will see similar boards created, each putting local customer needs and priorities at the forefront of their work. This is a further step in the ongoing devolution of Network Rail from a centralised organisation to one which is predominantly run by local teams for local customers.
The new Western route supervisory Board comprises the managing directors of Network Rail Western Route, GWR and Heathrow Express; Nina Howe, from Transport Focus and it will be independently chaired by former government rail advisor, Dick Fearn.
As independent chair, Dick Fearn, who has 43 years' experience in the rail industry, will work with the leadership teams at Network Rail, GWR and Heathrow Express to help them align action plans, improve joint planning and drive targets that improve passenger experience. The formation of this new joint board has been made to bring 'track and train' operations and long term planning closer together to improve experience of passengers and minimise, where possible, unnecessary impacts on rail users.
Mark Hopwood, managing director at GWR, said:
"We have long recognised the importance aligned rail priorities and targets across the rail industry have on improving the service we give customers.
"We are in the midst of the biggest track and fleet upgrade in a generation on the Great Western Network, and customers expect us to deliver together. Today's news will extend our current alliance agreements beyond GWR and Network Rail and will embed our aligned approach throughout the region."
Fraser Brown, director for Heathrow Express, said:
"I am pleased to be formalising our working relationship with Network Rail and Great Western Railway. Our goal is to put our customers first, and provide a safe and excellent service that matches the increasing demand on our railway. We operate on a busy patch, and it's never been more important that we collaborate to ensure we all achieve our objectives. We want customers to feel the benefit of the work Network Rail is doing to modernise the railway so it's fit for today and the future."
Notes to editors:
Network Rail's Transformation Plan update – "Delivering for Our Customers" is available here . It updates on the initial Plan published in July 2016.
The Western region has its main terminus at Paddington and comprises of the Thames Valley commuter network (to places such as Oxford and Newbury) as well as the routes to Swindon, Bath, Bristol and the West Country to Devon and Cornwall
Dick Fearn was most recently chief executive of Iarnrod Eireann / Irish Rail and a rail advisor to the UK Government. His earlier roles include divisional director at British Rail Network South East, managing director at The South Eastern Train Company and zone director for Midlands and North West Railtrack
The new western supervisory Board is a pilot that will help inform and finesse supervisory Boards for all the other route businesses that Network Rail wants in place within the next 24 months. The board will meet every four weeks with the first meeting set to take place in April.
About Network Rail
We own, operate and develop Britain's railway infrastructure; that's 20,000 miles of track, 30,000 bridges, tunnels and viaducts and the thousands of signals, level crossings and stations. We run 20 of the UK's largest stations while all the others, over 2,500, are run by the country's train operating companies.
Every day, there are more than 4.7 million journeys made in the UK and over 600 freight trains run on the network. People depend on Britain's railway for their daily commute, to visit friends and loved ones and to get them home safe every day. Our role is to deliver a safe and reliable railway, so we carefully manage and deliver thousands of projects every year that form part of the multi-billion pound Railway Upgrade Plan, to grow and expand the nation's railway network to respond to the tremendous growth and demand the railway has experienced - a doubling of passenger journeys over the past 20 years.
We are building a better railway for a better Britain.
Follow us on Twitter: @networkrail
Visit our online newsroom: www.networkrailmediacentre.co.uk