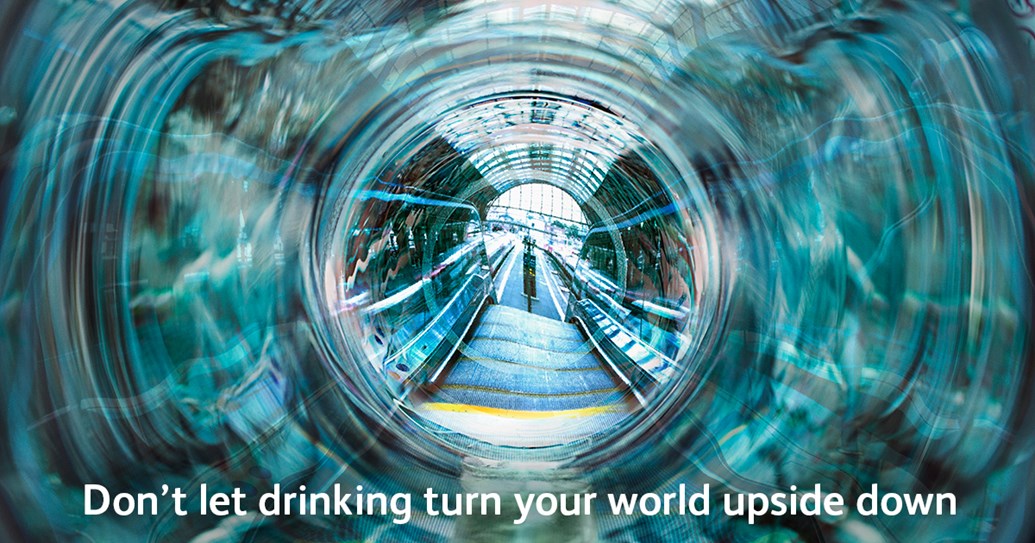 Thursday 14 Dec 2017
Revellers in Wales and Borders warned to "keep a clear head" around the rail network over the festive season
Route:
Passengers at stations across Wales and Borders are being invited to try out special 'beer goggles' which replicate the visual effects of drinking too much alcohol, as part of a campaign to highlight the dangers of intoxication when travelling on the rail network.
The run-up to Christmas is traditionally very social; a time of catching up with friends and family and of work parties and drinks. It's a time for fun, but newly-released data from Network Rail, British Transport Police (BTP) and RSSB reveals that for some, that fun can spell danger, resulting in a sharp increase in the number of alcohol-related incidents across the rail network.
Jeff Davies, director of route safety and asset management for Network Rail in Wales and Borders, said: "We have one of the safest railways in Europe, and we are working hard with our partners Arriva Trains Wales and British Transport Police to get everyone home safe every day.
"That's why we're reminding the public to remain alert to dangers whilst they're having fun over the festive season. Taking a short cut across the tracks, chancing it at level crossings or tripping at the platform edge can cause delays to your journey or in some cases result in serious harm.
"Enjoy yourself but don't let alcohol stop you or your fellow passengers from getting to where you need to be – keep a clear head."
With over 1,000 level crossings and more than 250 railway stations across Wales and Borders, Network Rail, BTP and RSSB have come together to launch their "keep a clear head" campaign warning the public to take extra care when travelling on or around the railway network, especially when they've been drinking alcohol.
Tom Lee, Director of Standards at RSSB, said: "Travelling by train is very safe and we want everyone to have a harmless and punctual journey whilst enjoying the festive season. However, with around 469 alcohol-related incidents at the platform edge over the past 5 years, passengers and level crossing users are reminded to take care so that they get to and from their destination safely."
According to BTP, there is also a rise in violence at many of the busiest railway stations over the festive season, much of which is caused by excess alcohol. Between 24 November 2016 and 2 January 2017, the number of violent offences reported at railway stations across England, Scotland and Wales increased by 14% compared with the same period in 2015/16. Almost one in 10 of those offences involved alcohol4.
In response, British Transport Police are stepping up patrols at railway stations across the country.
Sergeant Nick Brown said: "Unfortunately, during the festive season, we see a rise in public order offences and antisocial behaviour. Much of this is down to the people involved drinking too much and behaving in a way that would shock them and their family and friends if they were sober.
"We want everyone to get to their destination safely. Our officers will be out on the network helping people to enjoy the festivities safely and encouraging them to think about how alcohol can affect the way they behave and the effect this has on their fellow passengers.
"If you're using the railway to get around this Christmas, please keep a clear head. Think about what you would do and how you would behave if you were sober. There is no excuse for spoiling other people's journeys or behaving any differently because you've drunk alcohol. We want you to have fun but it's more important to get where you're going safely."
Lynne Milligan, Customer Services Director at Arriva Trains Wales, said: "Whilst people are celebrating the festive season, It is important to remember that the railway can be a dangerous place when you've had a few too many drinks.
"At Arriva Trains Wales, the safety of our customers is our top priority and we work with our partners in Network Rail and the BTP to make people aware of the dangers.
"So we would ask customers to please take care when travelling on our network and to let them know our staff are able to help them should they need it."
Of the 7,419 recorded alcohol-related incidents on or around the railway in 2016/17, 16% of those took place over the festive period – between 24 November and 2 January 2017. 21 people have been killed due to alcohol-related incidents at the platform edge and a further 91 people seriously injured over the last 10 years. Passengers boarding and alighting trains were involved in 469 alcohol-related accidents in the last five years3.
7,419 recorded alcohol-related incidents on and around the railway in 2016/7 – an increase of 17% compared with 2015/161
16% of those incidents happened over the festive period2
Network Rail, British Transport Police and RSSB unite to encourage people to "Keep a Clear Head" on and around the railway
In total, Wales and Borders saw 160 alcohol related incidents causing delays to train services in 2016/7
Bridgend revellers are the worst culprits in Wales and Borders– with 27 alcohol related incidents causing delays to services in the past two years.
Danger points for intoxicated passengers are:
not heeding the warnings at level crossings
trips and slips at the platform edge and on station stairs and escalators
straying onto the railway tracks
In response to the seasonal surge in incidents, further alcohol awareness events will be held at Britain's busiest rail stations in the run up to Christmas. Revellers in pubs and clubs near railway stations and level crossings will also be targeted with a reminder to 'keep a clear head'.
About Network Rail
We own, operate and develop Britain's railway infrastructure; that's 20,000 miles of track, 30,000 bridges, tunnels and viaducts and the thousands of signals, level crossings and stations. We run 20 of the UK's largest stations while all the others, over 2,500, are run by the country's train operating companies.
Every day, there are more than 4.7 million journeys made in the UK and over 600 freight trains run on the network. People depend on Britain's railway for their daily commute, to visit friends and loved ones and to get them home safe every day. Our role is to deliver a safe and reliable railway, so we carefully manage and deliver thousands of projects every year that form part of the multi-billion pound Railway Upgrade Plan, to grow and expand the nation's railway network to respond to the tremendous growth and demand the railway has experienced - a doubling of passenger journeys over the past 20 years.
We are building a better railway for a better Britain.
Follow us on Twitter: @networkrail
Visit our online newsroom: www.networkrailmediacentre.co.uk