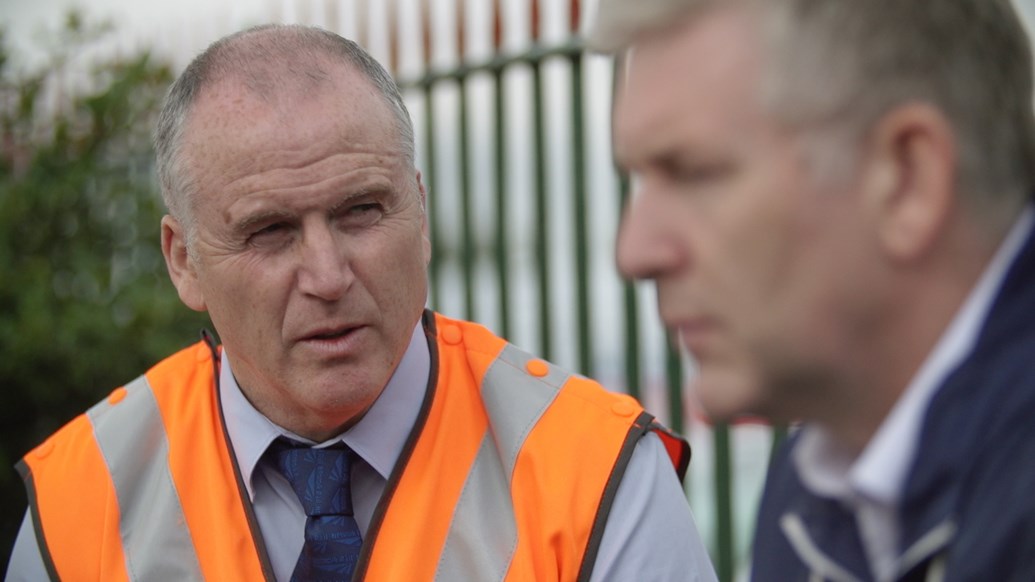 Friday 30 Jun 2017
Railway suicide prevention training saves lives in Wales
Route:
Suicide prevention measures put in place as part of the partnership between Samaritans, Network Rail, British Transport Police (BTP) and the wider rail industry are continuing to reduce deaths on the railway.
Since April last year, 71* potentially life-saving interventions have been carried out across the Wales rail network by rail staff, British Transport Police, local police and members of the public.
At the same time, suicides and suspected suicides on the rail network as a whole have dropped from 253 to 237** since 1st April 2016, showing a steady decline in rail suicides for the second year in a row. This means that rail suicides have fallen by 18 percent in two years and 2016/17 represents the lowest yearly figure since 2010.
Rail companies, BTP and Samaritans are continuing to work in partnership to encourage more people to open up and talk about mental health issues and suicidal feelings. As the new figures are released, the partnership is marking the 15,000th member of rail staff trained in suicide prevention.
Samaritans deliver two training courses as part of the partnership – a course for railway staff and BTP officers teaching them how to identify and approach potentially suicidal people, and trauma support training aimed at those who may be affected by suicide on the railway.
Steven Dobie, route performance measurement manager for Network Rail Wales, attended the Managing Suicidal Contacts course run by Samaritans last year. It was this training that Steven felt helped him during an intervention this month.
Steven said: "A colleague and I saw a girl on a platform who looked really distressed so I approached her and introduced myself.
"We chatted and I reassured her I was there to help. I talked with her to keep her calm with a colleague from Great Western Railway until a British Transport Police officer took over.
"The Managing Suicidal Contacts course was invaluable, it helped me to stay calm and listen, which also helped me calm her down."
Ian Stevens, who manages the suicide prevention programme on behalf of the rail industry, said:
"It's encouraging to see the number of suicides on the railway fall for the second year in a row, and hopefully this trend continues in line with our ongoing suicide prevention work. It's great to be able to say that around one in six rail staff are now trained in suicide prevention, and that their commitment to preventing suicides on the railway is translating into actual lives saved on the ground. Put simply, we are now more likely to intervene and prevent people being injured or killed through suicide attempts on the railway.
"As the operators of the rail network in Britain, we have a responsibility to keep passengers, staff and members of the public safe. Alongside physical measures such as new barriers, fencing and lighting at stations, we will continue our work with Samaritans to prevent suicides and break down the stigma associated with mental health issues."
Mark Smith, National Suicide Prevention and Mental Health lead for British Transport Police added:
"As the national police service for the railways, we are committed to reducing suicide and to our partnership with the rail industry and Samaritans. We are very pleased to see the reduction in suicides and suspected suicides and the increase in life saving interventions for the second year in succession.
"One of our contributions is through the work of our suicide prevention and mental health teams, which have NHS Psychiatric nurses working alongside police officers and staff. These teams work with statutory and third sector partners to help those people that come to the railway in mental health crisis or suicidal circumstances, access effective care pathways and get on the road to recovery. In the last year, these joint health and policing teams and our Community Safety Unit in Scotland, dealt with nearly 2,000 cases which includes 86 people who survived a suicide attempt on the railway with serious injuries."
Samaritans CEO Ruth Sutherland said:
"The reduction in suicides on the railway shows that the partnership between Samaritans, Network Rail, BTP and the wider rail industry is making a real difference. But suicide is everybody's business and we want to see the same dramatic reduction in suicide figures in general. We look forward to taking this learning to a wider audience and having an even greater impact on suicide numbers in the coming years."
Additional ways that the rail industry is preventing rail suicides include:
Fencing has been installed across the network at locations where the risk of suicide is known to be high
Improved platform markings, which exist for passenger safety, but for some at risk of suicide they also act as a psychological barrier
Engaging and working with local authorities to help prevent rail suicides
Suicide is the biggest killer of men under 50 and those from deprived communities are particularly vulnerable.
About Network Rail
We own, operate and develop Britain's railway infrastructure; that's 20,000 miles of track, 30,000 bridges, tunnels and viaducts and the thousands of signals, level crossings and stations. We run 20 of the UK's largest stations while all the others, over 2,500, are run by the country's train operating companies.
Every day, there are more than 4.8 million journeys made in the UK and over 600 freight trains run on the network. People depend on Britain's railway for their daily commute, to visit friends and loved ones and to get them home safe every day. Our role is to deliver a safe and reliable railway, so we carefully manage and deliver thousands of projects every year that form part of the multi-billion pound Railway Upgrade Plan, to grow and expand the nation's railway network to respond to the tremendous growth and demand the railway has experienced - a doubling of passenger journeys over the past 20 years.
Follow us on Twitter: @networkrail
Visit our online newsroom: www.networkrailmediacentre.co.uk