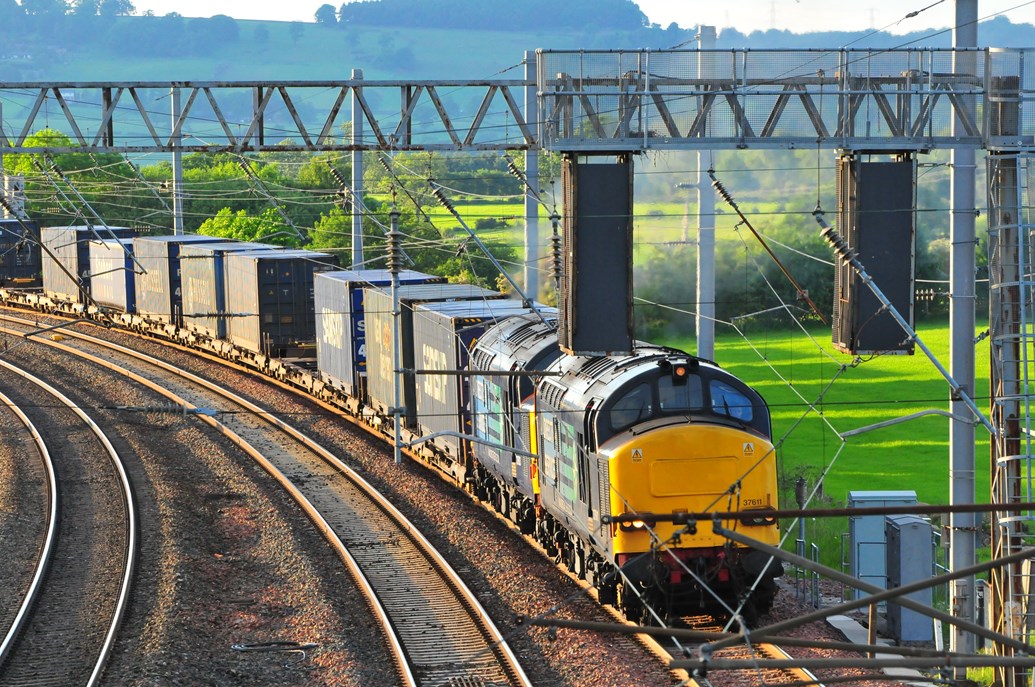 Friday 31 Mar 2017
Rail freight industry and Network Rail collaborate to increase railway capacity
Route:
Timetable overhaul to potentially free-up thousands of slots for passenger services
A massive timetable shakeup is being implemented after Britain's rail freight industry collaborated over a two-year, industry-wide review into more efficient freight operations. Together, Network Rail and freight operators identified 50 per cent of the reserved slots on the railway for freight trains were not being used and could potentially be given up for thousands of new passenger and freight services.
Per week, 4,702 allocated 'paths' – the slots a freight train has on the railway and in the timetable – have been relinquished, freeing-up much needed capacity on the rail network. They could become available for all train operators to run additional services on a daily basis or re-time existing services to reduce congestion and improve reliability.
This additional capacity has been created at zero cost and has not led to any reductions in the number of freight trains running on the network. It represents a huge opportunity for both freight and passenger operators to increase traffic on the network without the need for expensive infrastructure enhancement schemes. The spare capacity can be attributed to a number of factors:
The unprecedented decline in coal traffic over the last two years, and a dip in iron and steel
More efficient freight operations including running longer, fuller, heavier trains
Savvy timetabling and better freight industry productivity, running fewer, part-loaded freight trains, reducing wasted capacity
Meanwhile, construction and intermodal freight traffic is growing on the rail network and additional paths are needed in order to support the economy across Britain. 1,000 of the removed paths have been safeguarded for future strategic freight growth, which is essential to allow for expected increases in key freight markets. The rail freight market can have the confidence that future traffic growth can take place without being hindered by the need to always build additional capacity.
Paul McMahon, Network Rail's managing director for freight and national passenger operators said: "It is important the whole rail industry works together to make best use of existing capacity, to minimise the need for additional expensive capacity enhancement schemes.
"This is a real win-win and has truly been a collaborative piece of work with the freight operators. Capacity has been freed up for the whole railway but essential capacity is reserved for freight operators. This is important given the need to support the growth of freight on the network to support the economy."
Russell Mears, chief executive of Freightliner and Chair of the Rail Delivery Group Freight Group, said: "The freight operators and Network Rail have worked together in an effective and pragmatic way for the wider industry good. Whilst retaining some key paths as strategic capacity to support future freight growth the release of other residual paths is essential in helping the government get the best value for money from our capacity constrained railway."
Notes to editors:
Freight trains deliver goods all over the country, taking 7.6 million lorry journeys off the road each year. Rail links are vital to business and communities; new rail lines unlock growth, jobs and housing.
Passenger numbers have doubled in the last 20 years and demand is accelerating at levels last seen more than 100 years ago. Rail freight is also booming, showing a 70% increase since the mid-1990s. But because of this growth in demand, large parts of the network are full and we are facing delays and congestion.
4,702 unused freight paths have now been relinquished by Freight Operating Companies
Of these 4,702 paths, 3,684 have been completely removed from the timetable
These relinquished paths could potentially see thousands of new services (both passenger and freight) on the railway per year
1,018 paths have been deemed to have strategic value and will be developed further by Network Rail
There are currently 4,967 freight paths in the Working Time Table (WTT). Around 20 per cent of these were unused in the last quarter, the lowest value ever recorded
Many coal paths in the North East, Scotland and South Wales have been removed, as well as paths on the West Coast Main Line. Some of the released paths have already been taken up by passenger operators, including using parts of the following paths:
Virgin Trains East Coast (between Leith and Hartlepool)
Great Western Railway (between Acton Yard and Slough)
Scotrail (between North Blyth and Mossend)
The rail freight industry has collaborated to deliver more efficient freight operations. Many examples of this are in now operation including:
Steel between Scunthorpe and Dollands Moore. Freight loads saw an increase in weight of 200 tonnes or 11.9 per cent from 1,600 to 1,800 tonnes and an increase in length
Water train from Dollands Moor to Wembley was a Class 66 and changed to electric traction using a Class 92. This allowed a 200 tonnes increase in weight from 1,600 to 1,800 tonnes, an increase of 11.9 per cent
Enterprise traffic from Didcot to Carlisle. This has seen a 42.2 per cent increase in length
Freight has a number of environmental advantages over road haulage, including:
For ever tonne of freight transferred by rail rather than road, carbon dioxide emissions are reduced by 76 per cent
Rail freight produces 10 times less small particulate matter than road haulage
Rail freight produces as much as 15 times less nitrogen oxide than the equivalent mass hauled by road
About Network Rail
We own, operate and develop Britain's railway infrastructure; that's 20,000 miles of track, 30,000 bridges, tunnels and viaducts and the thousands of signals, level crossings and stations. We run 20 of the UK's largest stations while all the others, over 2,500, are run by the country's train operating companies.
Every day, there are more than 4.7 million journeys made in the UK and over 600 freight trains run on the network. People depend on Britain's railway for their daily commute, to visit friends and loved ones and to get them home safe every day. Our role is to deliver a safe and reliable railway, so we carefully manage and deliver thousands of projects every year that form part of the multi-billion pound Railway Upgrade Plan, to grow and expand the nation's railway network to respond to the tremendous growth and demand the railway has experienced - a doubling of passenger journeys over the past 20 years.
We are building a better railway for a better Britain.
Follow us on Twitter: @networkrail
Visit our online newsroom: www.networkrailmediacentre.co.uk