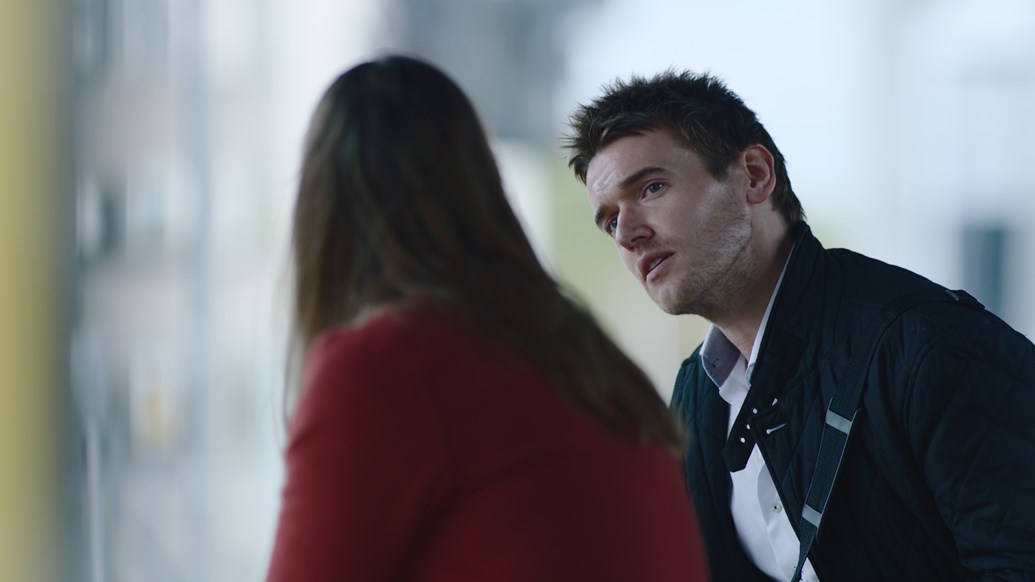 Friday 24 Nov 2017
Passengers in Wales and Borders encouraged to make small talk to save lives
Route:
The quick actions of a Wales and Borders railway worker prevented a distressed young man from taking his life at a railway station last month. He is now supporting a new campaign that encourages others to look out for fellow passengers.
Passengers are being asked to take part in a suicide prevention campaign on the railways which could save many lives a year and involves them spotting vulnerable people and talking to them to interrupt their suicidal thoughts.
Lee Nordhoff, mobile operations manager for Network Rail in Wales and Borders said: "Last month, while at a railway station I noticed a young man in a distressed state near the platform. I spoke with the young lad and it seemed to bring him out of his negative daze and he got up and walked away from the station. I was later told by British Transport Police officers who had spoken with the young man that he had in fact gone to the station with the intention of taking his own life. If I hadn't had the confidence to approach the young man and strike up a conversation, that day could sadly have ended very differently. Small talk can save lives and I would encourage anyone using the rail network to help keep their fellow passengers safe."
Samaritans, British Transport Police (BTP) and the rail industry, including Network Rail in Wales and Borders and Arriva Trains Wales, are working together to give travellers the confidence to act if they notice someone who may be at risk of suicide on or around the rail network.
The campaign, Small Talk Saves Lives, is asking the public to trust their instincts and look out for fellow passengers who might need help. By highlighting that suicidal thoughts can be temporary and interrupted with something as simple as a question, the campaign aims to give the public the tools to spot a potentially vulnerable person, start a conversation with them, and help save a life.
Andy Thomas, route managing director for Wales and Borders, said: "Every day, we are working with our partners Arriva Trains Wales and the British Transport Police to keep people safe near the rail network. With nearly five million journeys made by train every day in the UK, we are asking for our passengers to work alongside us, and be the eyes and ears of the railway, to help keep people safe. If in doubt, you can always report concerns to a member of staff or a police officer, but please act if your instinct is telling you that something is wrong, and remember that small talk could save someone's life."
British Transport Police Chief Constable, Paul Crowther, national strategic policing lead for suicide prevention, said: "Our officers make lifesaving interventions on the railway every day, together with rail staff and members of the public. We know from experience that when someone is in distress, simply engaging them in conversation can make all the difference and help set them on the road to recovery. It makes sense to let the public know that this simple act can help. We're not suggesting people intervene if they don't feel comfortable or safe to do so. They can tell a member of rail staff or a police officer – many of whom have been trained by Samaritans – or call 999."
Lynne Milligan, customer services director for Arriva Trains Wales said: "Thousands of people use the railway in Wales every single day and every single one of them has the potential to save a life. Whilst we work with Network Rail and the British Transport Police to keep everyone safe, it's so important that each one of us, if we see something unusual, that we don't put our head down and leave it to someone else. No one wants to see another person hurt on the railway and it would be awful to think that we saw something was wrong but didn't act. Something as simple as asking if someone is ok or needs any help could turn out to be the difference between a tragedy and a second chance."
Samaritans CEO Ruth Sutherland said: "Suicide is everybody's business and any one of us could have an opportunity to save a life. Research for this campaign showed 73% of the public would expect somebody to approach their loved one if they were upset in a public place.** We have worked carefully with the public, rail travellers and those bereaved by suicide to ensure that this campaign is delivered sensitively but with real impact. The knowledge and skills to save lives in the rail environment can be applied to many other situations. We hope that Small Talk Saves Lives is the start of a much wider conversation about how suicide is preventable."
Find out more about Small Talk Saves Lives at: www.samaritans.org/smalltalksaveslives.
You can also support by following the campaign @samaritanscharity on Instagram or sharing the video on Twitter @samaritans or Facebook at www.facebook.com/samaritanscharity, using the hashtag #SmallTalkSavesLives.
About Network Rail
We own, operate and develop Britain's railway infrastructure; that's 20,000 miles of track, 30,000 bridges, tunnels and viaducts and the thousands of signals, level crossings and stations. We run 20 of the UK's largest stations while all the others, over 2,500, are run by the country's train operating companies.
Every day, there are more than 4.7 million journeys made in the UK and over 600 freight trains run on the network. People depend on Britain's railway for their daily commute, to visit friends and loved ones and to get them home safe every day. Our role is to deliver a safe and reliable railway, so we carefully manage and deliver thousands of projects every year that form part of the multi-billion pound Railway Upgrade Plan, to grow and expand the nation's railway network to respond to the tremendous growth and demand the railway has experienced - a doubling of passenger journeys over the past 20 years.
We are building a better railway for a better Britain.
Follow us on Twitter: @networkrail
Visit our online newsroom: www.networkrailmediacentre.co.uk