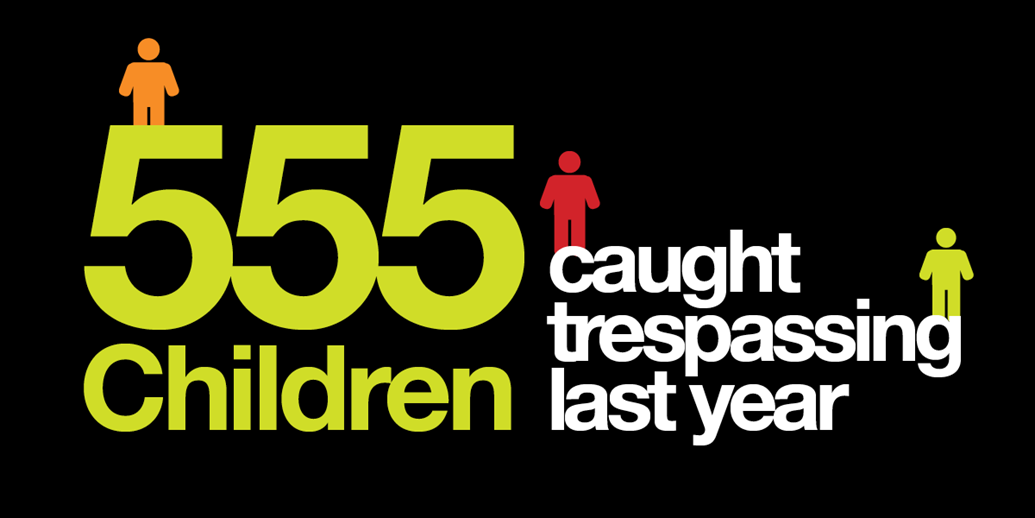 Thursday 13 Apr 2017
Number of people risking their lives on the railway hits 10-year-high
Route:
New figures reveal one person every hour trespasses on the railway and puts their life in danger.
Alarming new figures from Network Rail and British Transport Police reveal that more people than ever are risking their lives on the rail network by trespassing on the tracks¹. The data, which looks at trends over the last ten years, shows that trespass incidents are at an all-time high and that at least one person trespasses and dices with death every hour.
Last year alone there were more than 8,000 incidents where people risked their lives across the rail network, an 11 per cent increase on the previous year². Young people are also the most likely to take a risk, with just under half of those killed under the age of 25¹.
The data also highlights some worrying seasonal peaks in the number of incidents, with spring and summer seeing more than double the number of young trespassers, compared to the winter months.
Allan Spence, head of public and passenger safety at Network Rail, explains: "Every April we see a huge rise in the number of people taking a risk on the rail network and it's worrying that these numbers seem to be going up. Britain has the safest railway in Europe but still too many people lose their lives on the tracks. The dangers may not always be obvious but the electricity on the railway is always on and trains can travel up to 125 miles per hour, so even if they see you, they can't stop in time.
Simon Munn, a British wheelchair basketball player who was part of the hugely successful Team GB at both the Rio 2016 Paralympics and the London 2012 Paralympics, tragically lost his leg in a railway accident when he was 22 years old. Simon has enjoyed some great success as a Paralympian, but the events that set him on that path are harrowing.
"I decided to walk home from the pub. I didn't live too far, just across the railway. I had somehow ended up on the wrong side of the track. I had to walk an extra five minutes to get to a crossing. I thought, 'nah, I'll just jump over, it will save me time'.
"As I crossed the track I got my foot caught. I don't know how long I was there, but I heard the train coming. I couldn't move. Trains moving that fast can't stop in time to miss you and they can't swerve. It's too late by then.
"I spent the next few weeks in hospital and had to have my leg amputated. Now I really know what the cost of trespassing and taking shortcuts can be. I was lucky it wasn't my life. For anyone who messes around on the railway or thinks that it's safe as long as you can't see a train, I would say the dangers are real. It's not cool, it's not funny. It's not worth the risk."
72% of all trespassers who died over the last 10 years were struck by a train
Another 17% were electrocuted
The other 11 per cent were killed by a fatal fall on or near the railway
Most trespassers highlight taking a short cut (42%) as their main motivation for committing the crime, followed by thrill-seeking (19%).
In response to the seasonal surge in incidents and to tackle the problem of youth trespass, Network Rail and BTP have jointly launched a schools engagement programme where Network Rail community safety managers and BTP officers will be out teaching thousands of children about railway safety. The 'Tackling Track Safety' programme will involve more than 100 schools across Britain, using local sports clubs to help educate children about dangers.
Network Rail's community safety managers and BTP officers will target areas where numbers of trespass incidents are high.
The new figures also highlight that youth trespass is more prevalent in areas where there is socio-economic deprivation. To help tackle this Network Rail has also joined forces with the UK's largest children's charity Barnardo's. As their Charity Partner up until March 2019, Network Rail staff will be raising money for the charity and be encouraged to volunteer and help deliver safety education at local Barnardo's services. The two organisations are currently planning joint activities for Safety Week in September to raise awareness of the railway with Barnardo's children, young people, parents and staff.
Officers from British Transport Police will also be stepping-up patrols across the country.
Allan Spence continues: "As the railway gets busier and we electrify more lines to improve services, we must work harder to keep young people safe by making them aware of the dangers. It may seem harmless to take a shortcut, or fun to play on the tracks, but this is not just illegal, it is also very dangerous. Taking a short cut or messing around on the tracks can kill or maim you. Parents, peers and family can help press home our simple message: keep off the tracks"
To find out how to keep your children safe on the railway this summer visit
www.networkrail.co.uk/trespass
Contact information
Passengers / community members
Network Rail national helpline
03457 11 41 41
Latest travel advice
Please visit National Rail Enquiries
Journalists
Network Rail press office - Lucy Jones
Media relations manager
Network Rail
033 0854 3835 / 07734 649248
lucy.jones2@networkrail.co.uk
About Network Rail
Network Rail owns, manages and develops Britain's railway - the 20,000 miles of track, 40,000 bridges and viaducts and the thousands of signals, level crossings and stations (the largest of which we also run). In partnership with train operators we help people take more than 1.65bn journeys by rail every year and move hundreds of millions of tonnes of freight, saving almost 8m lorry journeys. We employ 38,000 people across Britain and work round-the-clock, each and every day, to provide a safe, reliable railway.
About the Railway Upgrade Plan
The Railway Upgrade Plan is Network Rail's investment plan for Britain's railways. It makes up two-thirds of Network Rail's £40bn spending priorities for the five years to 2019 and represents the biggest sustained programme of rail modernisation since the Victoria era. It is designed to provide more capacity, relieve crowding and respond to the tremendous growth Britain's railways continue to experience; passenger numbers have doubled in the past 20 years and are set to double again over the next 25 years - so we need to continue to invest in building a bigger, better railway. For passengers, that means:
longer, faster more frequent trains;
better, more reliable infrastructure; and
better facilities for passengers, especially at stations.
Follow us on Twitter: @networkrail
Visit our online newsroom: www.networkrailmediacentre.co.uk