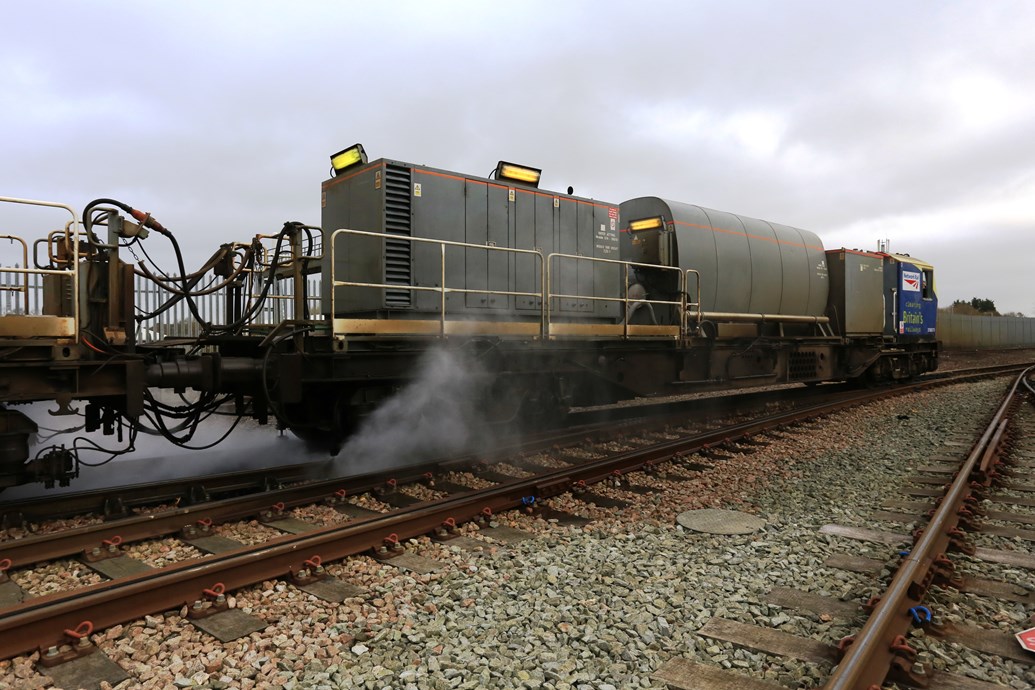 Monday 1 Oct 2018
Network Rail's leaf-busting trains prepare for autumn
Route:
Network Rail is preparing its 61-strong fleet of Railhead Treatment Trains (RHTT) and Multi-Purpose Vehicles (MPV) to minimise the impact of leaves on the line this autumn, ahead of the beginning of leaf fall season on Monday 1 October.
Leaves on the line – an annual cause of delays for rail passengers – pose problems for the railway when the leaves stick to damp rails and passing trains compress them into a thin, black layer on the rail which – much like black ice on the roads – can affect train braking and acceleration. This means that train drivers have to slow down earlier for stations and signals to avoid overshooting them. They must also accelerate more gently to avoid wheel spin. All this can increase journey time and leads to delays for passengers.
Build-up of leaf mulch can also make it harder for our signallers to detect a train's location, causing delays when subsequent trains are not able to proceed until the train in front is further up the line.
Equipped with a high-pressure pump, our leaf-busting trains clean the railheads with adhesion modifier – a mixture of suspension gel, sand and steel or iron shot – that is pushed through the compressed leaves and debris, clearing the tracks and helping the signalling system to work correctly.
Network Rail's autumn preparation programme includes a number of measures:
A total of 61 leaf-busting trains (32 MPVs and 29 RHTTs) which move around the network cleaning the top of the rail by spraying it with a water jet at very high pressure (1500 bar) to blast away leaf mulch
These trains also lay adhesion modifier, a composite material of sand and steel shot suspended in a gel-like substance, which is applied to the rail to aid traction
We have 'leaf-busting' teams available 24/7 at key locations to scrub the top of the rails by hand with a sand-based treatment
Management and replacement of lineside vegetation with species less likely to shed leaves on to the tracks
Between 1 October and 13 December, Network Rail receives adhesion forecasts twice a day from a specialist weather forecaster which highlight locations requiring action. This allows resources to be planned more effectively
As an industry, we work together to run a safe and reliable service. In areas with heavy leaf-fall some train operators publish special autumn timetables with revised journey timings to allow train drivers to drive more cautiously than at other times of year.
Andy Thomas, Network Rail's managing director, strategic operations, said: "Every autumn, even with the best preparation, leaves fall onto the line, which can cause the same conditions as black ice on the roads. With millions of trees growing alongside the railway, it's something the rail industry takes seriously. That's why our 'leaf-busting' trains and front-line teams are out there 24 hours a day, seven days a week, to make sure we can get passengers from A to B safely and reliably."
To find out more about how Network Rail tackles autumn, go to: www.networkrail.co.uk/autumn.
Notes to editors:
With 20,000 miles of track and millions of trees growing along the railway, managing vegetation is hugely important to us. If not managed well, trees and fallen leaves can pose a risk to the safe running of the railway and cause delays to trains. To find out more about our approach and how we are cooperating with the current Government review visit: https://www.networkrail.co.uk/vegetation.
About Network Rail
We own, operate and develop Britain's railway infrastructure; that's 20,000 miles of track, 30,000 bridges, tunnels and viaducts and the thousands of signals, level crossings and stations. We run 20 of the UK's largest stations while all the others, over 2,500, are run by the country's train operating companies.
Every day, there are more than 4.8 million journeys made in the UK and over 600 freight trains run on the network. People depend on Britain's railway for their daily commute, to visit friends and loved ones and to get them home safe every day. Our role is to deliver a safe and reliable railway, so we carefully manage and deliver thousands of projects every year that form part of the multi-billion pound Railway Upgrade Plan, to grow and expand the nation's railway network to respond to the tremendous growth and demand the railway has experienced - a doubling of passenger journeys over the past 20 years.
Follow us on Twitter: @networkrail
Visit our online newsroom: www.networkrailmediacentre.co.uk