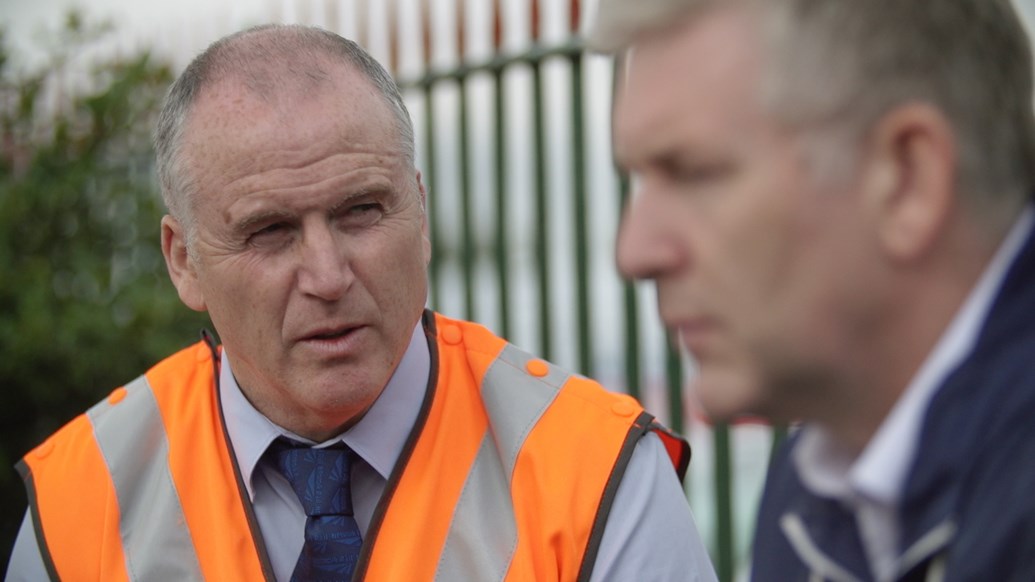 Friday 30 Jun 2017
Life-saving interventions on rail network up 40% in one year
Route:
Suicide prevention measures put in place as part of the partnership between Samaritans, Network Rail, British Transport Police (BTP) and the wider rail industry are continuing to reduce deaths on the railway.
Since April last year, 1,593* potentially life-saving interventions have been carried out across Britain's rail network by rail staff, British Transport Police, local police and members of the public – an increase of 40 percent on the previous year.
At the same time, suicides and suspected suicides on the rail network have dropped from 253 to 237** since 1st April 2016, showing a steady decline in rail suicides for the second year in a row. This means that rail suicides have fallen by 18 percent in two years and 2016/17 represents the lowest yearly figure since 2010.
As the new figures are released, the partnership is marking the 15,000th member of rail staff trained in suicide prevention.
Samaritans deliver two training courses as part of the partnership – a course for railway staff and BTP officers teaching them how to identify and approach potentially suicidal people, and trauma support training aimed at those who may be affected by suicide on the railway.
Ian Stevens, who manages the suicide prevention programme on behalf of the rail industry, said:
"It's encouraging to see the number of suicides on the railway fall for the second year in a row, and hopefully this trend continues in line with our ongoing suicide prevention work. It's great to be able to say that around one in six rail staff are now trained in suicide prevention, and that their commitment to preventing suicides on the railway is translating into actual lives saved on the ground. Put simply, we are now more likely to intervene and prevent people being injured or killed through suicide attempts on the railway.
"As the operators of the rail network in Britain, we have a responsibility to keep passengers, staff and members of the public safe. Alongside physical measures such as new barriers, fencing and lighting at stations, we will continue our work with Samaritans to prevent suicides and break down the stigma associated with mental health issues."
Mark Smith, National Suicide Prevention and Mental Health lead for British Transport Police added:
"As the national police service for the railways, we are committed to reducing suicide and to our partnership with the rail industry and Samaritans. We are very pleased to see the reduction in suicides and suspected suicides and the increase in life saving interventions for the second year in succession.
"One of our contributions is through the work of our suicide prevention and mental health teams, which have NHS Psychiatric nurses working alongside police officers and staff. These teams work with statutory and third sector partners to help those people that come to the railway in mental health crisis or suicidal circumstances, access effective care pathways and get on the road to recovery. In the last year, these joint health and policing teams and our Community Safety Unit in Scotland, dealt with nearly 2,000 cases which includes 86 people who survived a suicide attempt on the railway with serious injuries."
Samaritans CEO Ruth Sutherland said:
"The reduction in suicides on the railway shows that the partnership between Samaritans, Network Rail, BTP and the wider rail industry is making a real difference. But suicide is everybody's business and we want to see the same dramatic reduction in suicide figures in general. We look forward to taking this learning to a wider audience and having an even greater impact on suicide numbers in the coming years."
Carmel Giansante's son Oscar was just 16 when he tragically took his own life. He was suffering from masked depression – meaning his positive behaviour disguised how he was really feeling so there were no warning signs. Carmel has set up a charity in Oscar's memory called the Oscar Phillips Foundation, and as part of this work she goes into schools to deliver inspirational talks to young people.
Carmel said:
"The impact of something like this lives with you forever. At first you feel numb but then you are hit with a tsunami of grief. Oscar was at school at the time and didn't feel like he could open up to anyone, so by going into schools we aim to give children hope, and teach them about how to be positive in life. Teenagers have a lot of difficult decisions to make, and suicide should not be one of them."
Carmel added:
"Saving that one person could save another 20, because when you are affected by a suicide you then become four times more likely to take your own life. It's like a ripple effect. This is why it is so important to educate young people about being positive and looking after one another."
Additional ways that the rail industry is preventing rail suicides include:
Hundreds of kilometres of fencing have been installed across the network at locations where the risk of suicide is known to be high; this has significantly reduced the number of fatalities
Improved platform markings, which exist for passenger safety, but for some at risk of suicide they also act as a psychological barrier
Suicide is the biggest killer of men under 50 and those from deprived communities are particularly vulnerable.
ENDS
Notes to editors:
For further information, please contact:
Network Rail: Please contact Lisa Russell on 07734649250/ lisa.russell@networkrail.co.uk
Samaritans: Please contact the press office on 020 8394 8300 or press@samaritans.org
British Transport Police: Please contact Lucy Jones on 0207 027 6415 or Lucy.Jones@btp.pnn.police.uk
*Interventions from between April 1 2016 and 31 March 2017 (source: British Transport Police)
**We must be mindful that suicide data is best understood by looking at trends over longer periods of time, and year-on-year fluctuations may not be indicative of longer term trends. The figure for suicides on the railway is subject to change over the coming months, with coroner checks and other data quality measures effecting the classification of certain events. This figure only relates to suicides on infrastructure operated by Network Rail, not London Underground.
Railway suicides continue to account for approximately four percent of all suicides.
Due to the proven link between certain types of media reporting of suicide and increases in suicide rates, please be mindful of Samaritans' Media Guidelines for Reporting Suicide and Rail Suicide
Samaritans
You don't have to be suicidal to call us. Whatever you're going through, call us free any time from any phone on 116 123 (this number is FREE to call and will not appear on your phone bill), email jo@samaritans.org, or visit samaritans.org to find details of your nearest branch.
It's the public's kind donations and 20,000 trained volunteers that mean Samaritans is always there for anyone struggling to cope. Find out how you can support us: http://www.samaritans.org/support-us
Contact information
Passengers / community members
Network Rail national helpline
03457 11 41 41
Latest travel advice
Please visit National Rail Enquiries
Journalists
Network Rail press office - Lisa Russell
Senior media relations manager
Network Rail
07734 649250
lisa.russell@networkrail.co.uk
About Network Rail
Network Rail owns, manages and develops Britain's railway - the 20,000 miles of track, 40,000 bridges and viaducts and the thousands of signals, level crossings and stations (the largest of which we also run). In partnership with train operators we help people take more than 1.65bn journeys by rail every year and move hundreds of millions of tonnes of freight, saving almost 8m lorry journeys. We employ 36,000 people across Britain and work round-the-clock, each and every day, to provide a safe, reliable railway.
About the Railway Upgrade Plan
The Railway Upgrade Plan is Network Rail's investment plan for Britain's railways. It makes up two-thirds of Network Rail's £40bn spending priorities for the five years to 2019 and represents the biggest sustained programme of rail modernisation since the Victoria era. It is designed to provide more capacity, relieve crowding and respond to the tremendous growth Britain's railways continue to experience; passenger numbers have doubled in the past 20 years and are set to double again over the next 25 years - so we need to continue to invest in building a bigger, better railway. For passengers, that means:
longer, faster more frequent trains;
better, more reliable infrastructure; and
better facilities for passengers, especially at stations.
Follow us on Twitter: @networkrailPR
Visit our online newsroom: www.networkrailmediacentre.co.uk