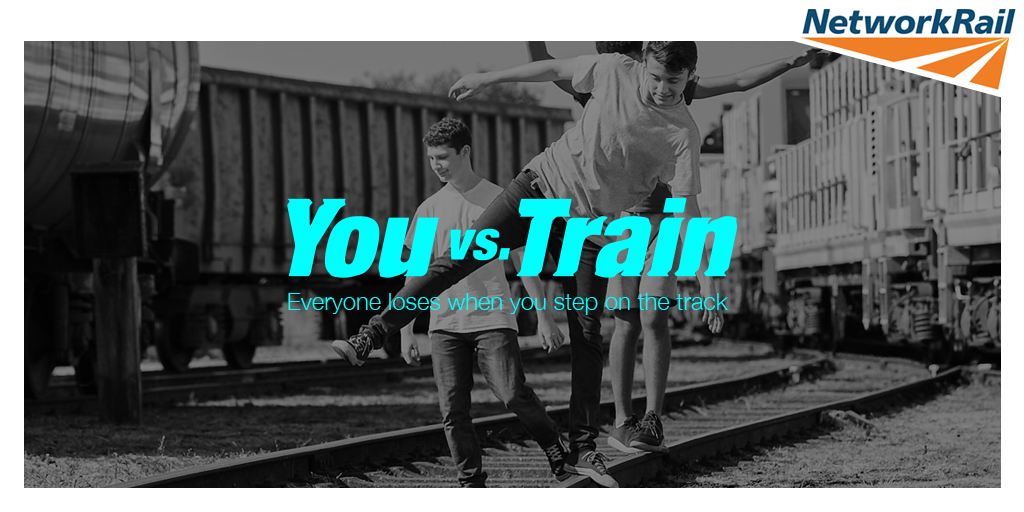 Wednesday 18 Jul 2018
Life-saving campaign launched as number of teenagers Wales and Borders accessing rail tracks doubles in three years
Route:
The number of young people taking risks on the railway track has doubled Wales and Borders since 2014¹. Across the UK, in the last 12 months alone, seven young people under the age of 18 have lost their lives and a further 48 people have received life changing injuries.
Alarming new figures reveal that despite trains being able to travel at 125mph, over a quarter (27%) of teenagers in Wales and Borders believe it's possible to step away from the track in time, if you hear a train coming. A shocking 18% believe walking on the railway track is a useful way to get somewhere more quickly, and 13% agreed they would use the railway as a shortcut again in the future2.
As a result, the rail industry and British Transport Police have launched a new campaign - called 'You Vs Train', which targets teenagers to make them face the serious and devastating consequences for them and their loved ones when they make the potentially life-changing decision to ignore warnings and go onto the railway, with its obvious and hidden dangers.
The lack of knowledge about the potential dangers seems to be why children choose the tracks as a good place to take risks³, with less than half (46%) believing that the railway is extremely dangerous.
Just under a half (48.7%) believe railway sidings (low speed track running alongside the main line) are safe
15% would cross a railway track not at a designated level crossing
Almost a fifth (18%) think that getting a dropped/lost item (e.g. phone or football) from the railway track is relatively safe as long as you leave again straight away
The new data also highlights some worrying seasonal peaks in the number of incidents, with the summer holidays seeing more than double the number of young risk takers, compared to the winter months⁴.
Bill Kelly, acting route managing director for Network Rail in Wales and Borders, said: "The railway is full of both obvious and hidden dangers, and as the railway continues to get busier, we must continue to work hard to make sure young people are aware of the dangers that exist on and near the tracks.
"Hundreds of people each year unintentionally take on the railway and lose. Trains can travel up to 125 miles per hour, so even if a driver can see your child, they can't stop in time and they can't change direction.
"Teams from Network Rail, Arriva Trains Wales and British Transport Police are working together to educate children about the importance of rail safety, but we need the support of our communities to make sure the message sticks. Parents - please help us keep your children safe by educating them about what they take on when they step on the track."
Inspector Mike Edwards from British Transport Police (BTP) in Wales, said: "The tracks are not a playground. They are incredibly dangerous and can easily result in serious injury or worse.
"We hope the campaign will help young people to understand the risks, and help them to make the right decision and stay away from railway lines. Equally, it will also help them understand that bad decisions don't just affect them, but they will have a deep and lasting impact on their families and friends as well. This campaign is not just for our young people but also their friends and family."
Acting Operations Director for Arriva Trains Wales Martyn Brennan said: "Every year our train crews see hundreds of cases of trespass taking place and it really is something we need to tackle.
"Tragically far too many of them have seen the devastating consequences it can have. It doesn't matter what your reason is; a short cut, boredom or trying to show off, our message is the same, just don't do it. It really is not worth risking your life. One life lost or one person injured is one too many. Our drivers do go out to schools to share their experiences and our partners in Network Rail and BTP do the same, but the wider we can spread this message the better."
The rail industry is also working together to roll out a new schools' engagement programme, where community engagement managers from across Network Rail, British Transport Police (BTP) and Train Operating Companies will be out teaching thousands of children about railway safety. BTP officers will also be stepping-up patrols across the country. In Wales, BTP have also encouraged all schools to write to parents about the importance of rail safety, ahead of the summer holidays
To find out how to keep your children safe on the railway this summer visit: www.YouVsTrain.co.uk
About Network Rail
We own, operate and develop Britain's railway infrastructure; that's 20,000 miles of track, 30,000 bridges, tunnels and viaducts and the thousands of signals, level crossings and stations. We run 20 of the UK's largest stations while all the others, over 2,500, are run by the country's train operating companies.
Every day, there are more than 4.8 million journeys made in the UK and over 600 freight trains run on the network. People depend on Britain's railway for their daily commute, to visit friends and loved ones and to get them home safe every day. Our role is to deliver a safe and reliable railway, so we carefully manage and deliver thousands of projects every year that form part of the multi-billion pound Railway Upgrade Plan, to grow and expand the nation's railway network to respond to the tremendous growth and demand the railway has experienced - a doubling of passenger journeys over the past 20 years.
Follow us on Twitter: @networkrail
Visit our online newsroom: www.networkrailmediacentre.co.uk