Monday 4 Jul 2011
FLYTIPPERS COST RAIL INDUSTRY £2M A YEAR
Region & Route: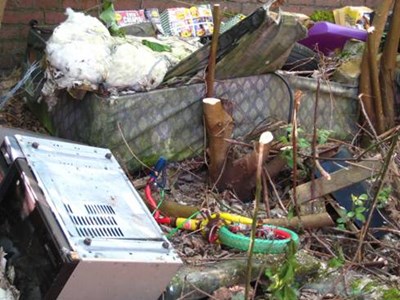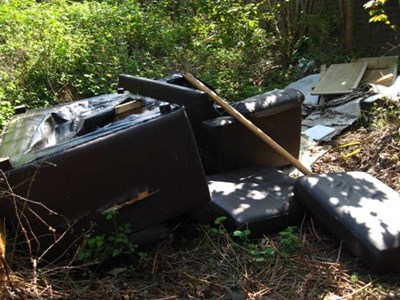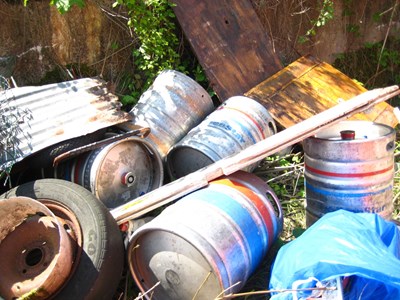 Flytipping on Britain's railway costs the industry at least £2.3m every year, says Network Rail as the company launches its first ever national clean-up week initiative today. This massive exercise will target around 130 sites from 4 to 8 July and is expected to clear nearly 1,000 tonnes of rubbish.
Last year, around £1m – nearly 50% of the total cost – was spent on clearing flytipping and litter on just the London North Western route, which covers the line from London Euston to the West Midlands and the North of England. In the last three years, the company received and responded to more than 5,000 reports of flytipping across the country, while about 4,000 tonnes of rubbish illegally dumped on railway land were removed.
Rubbish removed included asbestos, sofas, mattresses, broken refrigerators, syringes, beer barrels and hundreds of soiled nappies.
Thousands of railway staff and community volunteers will be out in force to take part in the clean-up blitz, removing litter and graffiti. Network Rail will also be introducing special 'womble bags', which are uniquely designed to help railway staff remove hazardous waste safely and swiftly, at some of the sites.
The national clean-up week aims to warn the public of the consequences of flytipping on railway land and to remind them how to remove its rubbish responsibly. It has backing from the Environment Agency, Campaign to Protect Rural England and the London 2012 Organising Committee, which are keen to tackle fly-tipping and spruce up Britain's urban and rural landscapes before the 2012 Olympic Games.
Steve Featherstone, Network Rail's director, maintenance, said: "Flytipping on the railway is illegal and must be taken seriously. It creates an eyesore, threatens safety on the railway by blocking key access and removes precious resources vital to improving the railway. In addition, clearing up railway land is not always straight forward, there have been instances when we had to shut the railway to remove rubbish.
"We believe the information we have gathered so far is just showing the tip of the iceberg, and flytipping is a prolific offence where many incidents remain unreported. The national clean-up week is a positive start to help us educate the public and warn offenders of the consequences of flytipping. Our work will not stop here, we will continue to take the extra steps to work with local authorities, British Transport Police and the public to stamp out this costly anti-social crime."
Phil Barton, chief executive of Keep Britain Tidy said: "Flytipping is not only illegal and blot on our landscape, it can also be hazardous. There is no excuse for flytipping, it shows a lack of respect for the environment. People need to dispose of their waste responsibly, regardless of whether it is an unwanted sofa or an empty soft drinks can. We are delighted to be working with Network Rail on Love Where You Live, the new cross-sector anti-littering campaign working to change the littering culture in this country, and fully support their national clean-up week."

Bill Bryson, CPRE president, said: " Britain is a beautiful country and often a visitor's first impression of a new town or county is the view from the train carriage. How disappointing it is to have that view tainted and polluted by litter and fly-tipping. We all have a responsibility to keep the countryside clear of litter as do the organisations responsible for public land. I'm pleased Network Rail appears to be taking its responsibility seriously which is why CPRE's branches and litter picking groups are enthusiastic in their support for Clean-Up-Week. I hope this is the start of a sustained drive that will make a real difference in the fight against litter."
Apart from clearing up rubbish, railway staff will also be clearing overgrown invasive plants on parts of the railway land during the same week.
Notes to editors
Network Rail owns and manages 30,000 hectares of railway land across Britain and that includes hundreds of sites of special scientific interest that could be affected by flytipping. Flytipping is a criminal offence.

The Clean Neighbourhoods and Environment Act increased the penalties for dumping waste in England and Wales – flytippers can now be fined up to £50,000 in Magistrates' Courts and face unlimited fines in higher courts, as well as community punishment orders or prison sentences of up to five years.
Those convicted of flytipping offences can now also be made to pay the costs of enforcement and investigation, as well as the clean-up costs.
About Network Rail
We own, operate and develop Britain's railway infrastructure; that's 20,000 miles of track, 30,000 bridges, tunnels and viaducts and the thousands of signals, level crossings and stations. We run 20 of the UK's largest stations while all the others, over 2,500, are run by the country's train operating companies.
Usually, there are almost five million journeys made in the UK and over 600 freight trains run on the network. People depend on Britain's railway for their daily commute, to visit friends and loved ones and to get them home safe every day. Our role is to deliver a safe and reliable railway, so we carefully manage and deliver thousands of projects every year that form part of the multi-billion pound Railway Upgrade Plan, to grow and expand the nation's railway network to respond to the tremendous growth and demand the railway has experienced - a doubling of passenger journeys over the past 20 years.
Follow us on Twitter: @networkrail
Visit our online newsroom: www.networkrailmediacentre.co.uk