Thursday 3 Sep 2015
Britain's first 'workshop on wheels' set to revolutionise railway maintenance
Region & Route:
The first of a new fleet of engineering trains which will revolutionise the way Network Rail's 'orange army' carries out railway maintenance and repair work enters service this week.
The state-of-the-art mobile maintenance trains (MMTs) will make working on the railway quicker, safer and more efficient as well as less disruptive for passengers and freight. Based at locations around the country, the eight MMTs will provide a 'workshop on wheels' for engineers and track workers as they carry out repairs, renewals and upgrades to Britain's 20,000-mile rail network.
Each train will have a workshop, two built-in 2t cranes to move heavy equipment, multiple power points (400V, 110V, hydraulic and pneumatic) and will be able carry all the tools and supplies the engineers could need, alongside a welfare area with kitchen and toilet. But the MMT's key feature is the large, extendable work area that allows access to the track below, provides cover, floodlighting and – crucially – protection from passing trains.
As a result, the MMTs will reduce the amount of disruption engineering work usually causes as they may be able to work on a section of track without having to close the railway next to it. This will limit disruption during the day when engineers carry out repairs, while allowing better use of the railway at night for freight trains carrying everything from high street goods and mail, to cars for export and coal for power stations.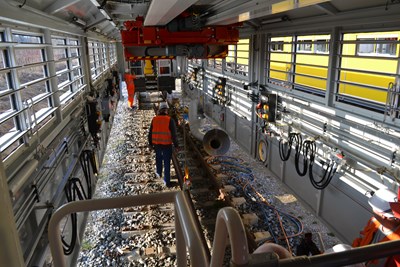 Neal Lawson, Network Rail's maintenance director, said: "Many tasks on the railway can only be carried out when the railway is closed to traffic – but with passenger numbers growing and demand for freight increasing at record levels, the need to keep the railway open round-the-clock is greater than ever before.
"These new trains mean our frontline staff can complete a wide range of maintenance and repairs more quickly and efficiently, reducing the need for costly and disruptive closures of the tracks. They'll also keep our people safe, warm and dry and better able to focus on getting the job done."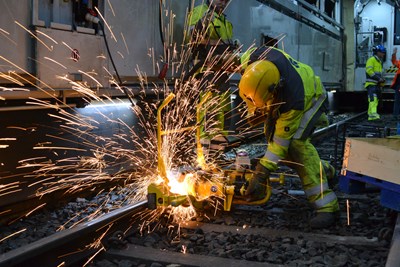 Teams will be able to board the MMT at a depot and be taken directly to the work site. In the safety of the work unit they can make repairs on a section of track or, using a slow 'creep' mode, are able to make rolling repairs. There are shutter blinds fitted in the upper section of the work unit, allowing natural light and ventilation in good weather. Closing these offers shelter and protection in bad conditions. The work unit also has adjustable side walls so the workspace can be increased where possible.
Corey White, an MMT supervisor based in Darlington, will be among the first of Network Rail's frontline staff to benefit from the new trains. "I'm lucky that I enjoy the job I do, but it can involve working in really tough conditions, a long way from shelter and simple comforts like a hot drink or a proper loo," said Corey.
"These new trains will make a massive difference to my team. We can get on the train at the depot with all the kit we need for a job and head straight to site. My favourite feature is the all-round lighting, which means we get pretty much perfect working conditions whatever the weather or time of day."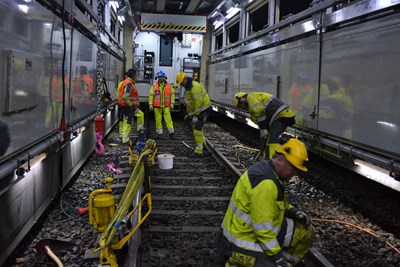 The MMTs have been manufactured by renowned railway construction and engineering experts Robel, in Freilassing, Germany and will be delivered to Network Rail over the next 12 months. The first one to arrive will be based in Darlington, with the second (based at Paddock Wood in Kent) arriving in October and the third (based at Derby) in December. The remaining five will be stationed at Woking, Retford, Romford, Peterborough and Horsham.
The fleet will be operated and maintained by Colas Rail under a three-year deal.
MEDIA INVITE:
If you'd like to see the MMT in action, we will be demoing it to members of the press on Friday 11 September. Please contact Dan Donovan to arrange a visit.
About Network Rail
We own, operate and develop Britain's railway infrastructure; that's 20,000 miles of track, 30,000 bridges, tunnels and viaducts and the thousands of signals, level crossings and stations. We run 20 of the UK's largest stations while all the others, over 2,500, are run by the country's train operating companies.
Usually, there are almost five million journeys made in the UK and over 600 freight trains run on the network. People depend on Britain's railway for their daily commute, to visit friends and loved ones and to get them home safe every day. Our role is to deliver a safe and reliable railway, so we carefully manage and deliver thousands of projects every year that form part of the multi-billion pound Railway Upgrade Plan, to grow and expand the nation's railway network to respond to the tremendous growth and demand the railway has experienced - a doubling of passenger journeys over the past 20 years.
Follow us on Twitter: @networkrail
Visit our online newsroom: www.networkrailmediacentre.co.uk