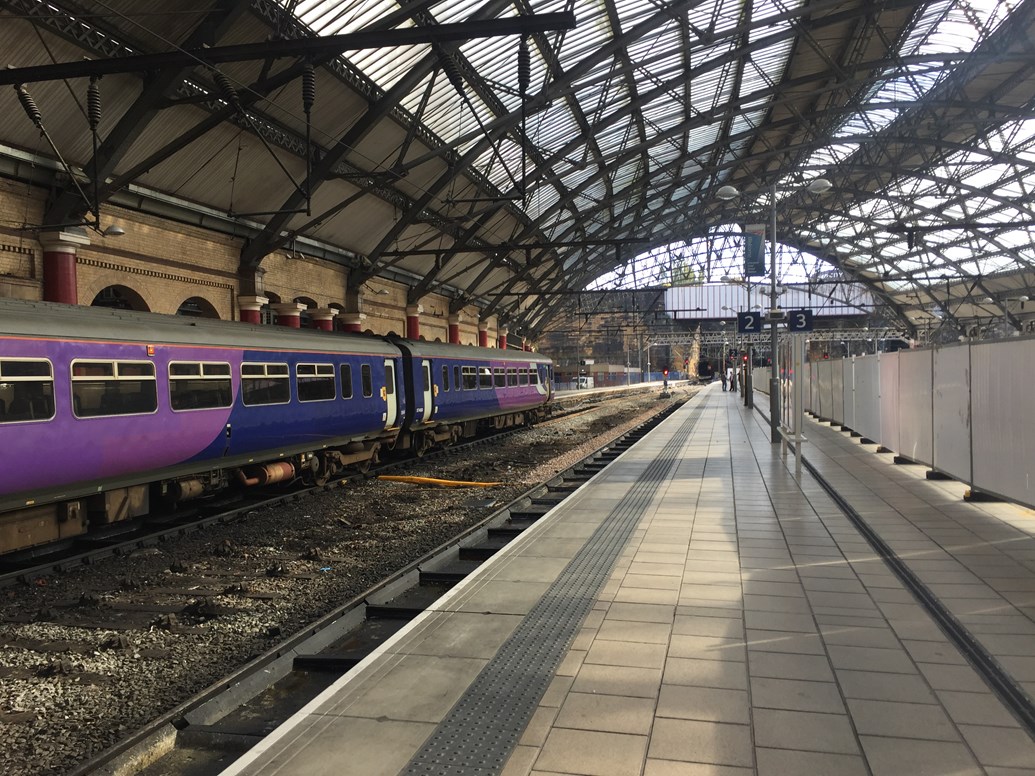 Monday 9 Oct 2017
Two platforms reopen at Liverpool Lime Street as station upgrade continues
Route:
Passengers travelling between Liverpool and Preston, Blackpool, Wigan, St Helens and Manchester Victoria can begin to use Lime Street from today (9 October) after two platforms reopened.
Network Rail has successfully completed the first nine days of work on the station's major upgrade, part of a £340m investment into the railway in the Liverpool City Region by 2019, as part of the Great North Rail Project.
Work to upgrade platforms 1 and 2, combined with signalling work and connecting a fourth track between Huyton and Roby, means that trains will run in and out of Lime Street between 6am and 8pm. Replacement buses will continue to be in use outside of these times.
Vital upgrades to the Liverpool City Region's main station kicked off on Saturday 30 September, as part of a 23 day transformation. Work completed so far includes upgraded track on platforms 1, 2 and 9 and the modernisation of the station's signalling system.
When completed in 2018, the upgrade will enable an extra three services per hour in and out of Lime Street station, including new direct services to Scotland. Longer, better managed platforms will allow bigger trains, with more room for passengers into the station. There will also be a re-modelled concourse.
Main line services between Liverpool and Birmingham, London, Leeds, Manchester and Crewe have successfully been diverted to Liverpool South Parkway over the last nine days, and will continue until work completes on 22 October.
Between Saturday 30 September and Thursday 5 October, more than 155,000 passenger journeys have started and ended at Liverpool South Parkway– more than three times the number of passenger journeys in a typical week.
Rob Grey, project manager at Network Rail, said: "This work forms part of a massive £340m investment in the Liverpool City Region which is vital to increase capacity and provide passengers with a better railway.
"This much needed investment will boost the city's economy and enable more reliable, more frequent journeys. Completing the fourth track between Huyton and Roby is a major milestone and we are making great progress at Lime Street, a third of the way through the first phase of its major upgrade."
Sharon Keith, regional director at Northern, said: "It's great to see such early progress in the transformation of Liverpool Lime Street and the modernisation of the Liverpool City Region infrastructure.
"We are delighted to once again be able to offer rail services to our customers on the Huyton and Roby line and are excited about the long term benefits the line upgrades will bring in tandem with our own modernisation programme."
Jan Chaudhry-van der Velde, Merseyrail's managing director, said: 'Over the next couple of weeks, Merseyrail will continue to play a supporting role within this project, transporting people between Liverpool South Parkway and the city centre. To date, this has been working well, but we cannot stress enough how important it is that customers plan their journeys and allow more time for travel.'
Frank Rogers, chief executive of Merseytravel, said: "The months of planning ahead of this work appears to be paying off, with the alternative travel arrangements generally working well, best illustrated by Liverpool South Parkway accommodating more than three times the number of passenger journeys than usual.
"Where there have been teething issues we've been looking to address them quickly and will continue to monitor the situation to ensure we can keep the Liverpool City Region moving. We thank people for their patience while we look to build a better railway."
Chris Nutton, major projects director for TransPennine Express, said: "Our joint plan is working well and as an industry, we've operated 1,620 trains over the past nine days.
"I want to thank customers for their continued patience. This essential work will allow operators to run longer trains with more seats and introduce more services such as our new link from Liverpool to Glasgow in 2018"
Work between Huyton and Roby has been completed in two key stages, the first of which was in 2014. The overall improvements include new track between Huyton and Roby, a new platform at both Huyton and Roby, signalling upgrades and overhead line equipment installed, and new facilities at the stations including better customer information systems, new lifts and easier access via subways.
The additional fourth track between Huyton and Roby will allow faster services to overtake local stopping services, enabling quicker journeys and more capacity on the route in and out of Liverpool.
For travel information visit www.networkrail.co.uk/lcr or for more information on the £340m investment in the Liverpool City Region's rail network by the end of 2019 visit www.keepliverpoolmoving.com.
About Network Rail
We own, operate and develop Britain's railway infrastructure; that's 20,000 miles of track, 30,000 bridges, tunnels and viaducts and the thousands of signals, level crossings and stations. We run 20 of the UK's largest stations while all the others, over 2,500, are run by the country's train operating companies.
Every day, there are more than 4.7 million journeys made in the UK and over 600 freight trains run on the network. People depend on Britain's railway for their daily commute, to visit friends and loved ones and to get them home safe every day. Our role is to deliver a safe and reliable railway, so we carefully manage and deliver thousands of projects every year that form part of the multi-billion pound Railway Upgrade Plan, to grow and expand the nation's railway network to respond to the tremendous growth and demand the railway has experienced - a doubling of passenger journeys over the past 20 years.
We are building a better railway for a better Britain.
Follow us on Twitter: @networkrail
Visit our online newsroom: www.networkrailmediacentre.co.uk