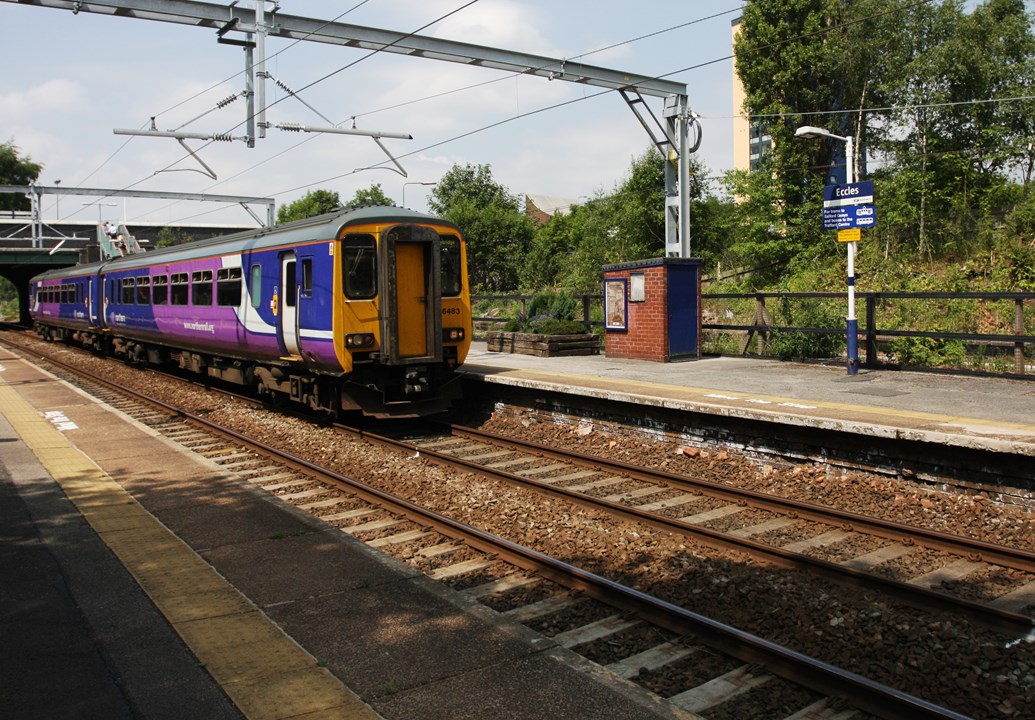 Thursday 12 Jun 2014
Network Rail reveals record investment in the railway in the West Midlands and north west
Route:
Almost £1.4bn was invested in improving and expanding the rail network in the West Midlands and north west over the last 12 months, an increase of more than 40% compared to the previous year.
The record investment, which equates to almost £4m a day was spent on the London North Western (LNW) route which runs from London to the Scottish border.
It has provided new platforms, new lifts, new information systems, new concourses, new footbridges and new track as part of Network Rail's commitment to help build a bigger, better railway.
Investment has increased as passenger numbers continue to rise: more than 239m passenger journeys were made on the route last year - 1.5bn were made nationally – and these figures are predicted to grow year-on-year with an estimated 30% growth predicted over the next 10 years.
Successive governments have recognised the need to invest in Britain's railway to respond to demand and expand the network. This year, that investment reached record levels and high levels of expenditure will continue - £5.5bn will be spent on the LNW route over the next five years as part of a £38bn national package - as Network Rail continues its task to improve and expand the network.
Dyan Crowther, route managing director for Network Rail, said: "We are in the middle of a rail renaissance with record levels of passenger numbers and record levels of investment. We will continue to invest heavily to improve the railway for today and for the rail users of tomorrow.
"The West Coast main line is one of the busiest mixed use railways in Europe and while we are reducing the number of infrastructure faults, the high number of trains using the network means when there is an incident it affects more services than ever before
"The last year has been one of operational challenges with one of the wettest winters on record but we have begun to see an upward trend in performance and will continue to build on this to provide a better service for passengers.
"Ongoing investment is essential to provide a better railway which will help to support the growth of the economy and deliver a better, improving and expanding service for millions of passengers."
Network Rail invested £1.366bn in renewals and enhancements on the LNW route in 2013/14 compared to £946m in 2012/13 – an increase of 40.7%. Nationally the figure was £6.663bn in 2013/14 compared to £4.806bn in 2012/13 – an overall increase of 35.1%.
Improvements delivered on the LNW route in 2013/14 included the switch over of Birmingham New Street when the first new section of the concourse was brought into use for passengers, part of a wider station redevelopment and construction of a new shopping destination, Grand Central, which will continue into 2015.
The first phase of the North West Electrification Programme was switched on when the Manchester to Newton-le-Willows via Eccles section was brought into use, part of a £400m project to electrify the railway across the north west of England. This will provide passengers with faster and more reliable and regular journeys.
The Walsall resignalling project was completed which renewed signalling between Walsall and Rugeley Trent Valley, improving reliability of the network. This will be complemented by the electrification of the route which will help to provide more regular and reliable services.
Ongoing work took place between Stafford and Crewe, part of the £250m Stafford Area Improvements Programme which will deliver capacity and line speed improvements on the West Coast main line between the two stations. This is the last upgrade which can be made on the WCML before it reaches full capacity.
Around £40m of improvements were completed on the southern end of the West Coast main line which included overhead line investment to improve reliability and fencing to increase security and reduce trespass incidents.
Holme Tunnel, on the line between Burnley and Hebden Bridge, reopened to passenger services after a 20 week closure to carry out essential improvement work after local ground movement had distorted the tunnel walls.

Work took place at a number of stations along the route to provide better access for passengers including: Manchester Oxford Road, Salford Crescent, Henley-in-Arden, Shirley, Carlisle, Birchwood (near Warrington) as well as stations on the Cumbrian coast line and the Settle to Carlisle line.
Over the next 12 months, as part of the £5.5bn+, five year investment plan for the LNW route, Network Rail will invest in:
•The £600m Northern Hub project which will upgrade stations and the infrastructure to provide better connectivity and faster journey times, particularly between Manchester, Liverpool and Leeds, contributing to an improved economy across the north of England.
•A £20m platform upgrade at Manchester Airport station which will help to accommodate the increased capacity at the station provided by new direct rail services to the airport
•The £400m North West Electrification Programme which will electrify more than 350km of railway to provide better services across the north west to Yorkshire and the north east of England
•The £44m redevelopment of Manchester Victoria station which will transform it into a 21st century gateway to the city
•A new Rail Operating Centre (ROC) in Manchester will come into operation in 2014, one of 12 centres which will eventually operate the entire rail network across Britain. The signalling functions will be phased into the ROC throughout CP5 (2014-2019)
•The West Coast main line power supply upgrade which will help to provide a more reliable service along the route between London and Glasgow, via Birmingham, Coventry, Wolverhampton and Manchester.
•The £250m Stafford Area Improvements Programme which will deliver capacity and line speed improvements on the West Coast main line between Stafford and Crewe, the last upgrade before the WCML reaches full capacity
•The £81m Watford Area Renewals Programme which will see nine miles of track relayed and a complete replacement of signalling between Kings Langley and Bushey to help boost reliability and improve performance on the WCML
•The £100m Bromsgrove and Redditch improvements package to deliver line speed, capacity and station improvements, including a new station in Bromsgrove
•15 miles of railway between Walsall and Rugeley Trent Valley which will be electrified to provide greener, more reliable services
•Birmingham New Street station – a £600m package to transform it into one of Britain's flagship stations
•Developing, in partnership with Birmingham City Council, Grand Central, a redeveloped shopping centre above New Street station which will be anchored by a John Lewis department store
•West Midlands resignalling which will renew the signalling through Birmingham New Street station to help provide a more reliable service
•Reopening the line between Oxford and Bedford as part of the East West Rail project.
•A new Rail Operating Centre (ROC) in Rugby which will open by 2019, one of 12 centres which will eventually operate the entire rail network across Britain, replacing more than 800 signal boxes and other operational locations currently used to control trains.
•The Chiltern main line train lengthening programme which will extend platforms to accommodate longer trains and provide more seats for passengers

For more information visit www.networkrail.co.uk
About Network Rail
We own, operate and develop Britain's railway infrastructure; that's 20,000 miles of track, 30,000 bridges, tunnels and viaducts and the thousands of signals, level crossings and stations. We run 20 of the UK's largest stations while all the others, over 2,500, are run by the country's train operating companies.
Every day, there are more than 4.8 million journeys made in the UK and over 600 freight trains run on the network. People depend on Britain's railway for their daily commute, to visit friends and loved ones and to get them home safe every day. Our role is to deliver a safe and reliable railway, so we carefully manage and deliver thousands of projects every year that form part of the multi-billion pound Railway Upgrade Plan, to grow and expand the nation's railway network to respond to the tremendous growth and demand the railway has experienced - a doubling of passenger journeys over the past 20 years.
Follow us on Twitter: @networkrail
Visit our online newsroom: www.networkrailmediacentre.co.uk